If you're selling variable products like Tshirts / Shorts and you have them in different variations then it's advisable to use Swatches. 
Swatches are nothing but different product variations. For apparel products it is generally either colors/sizes.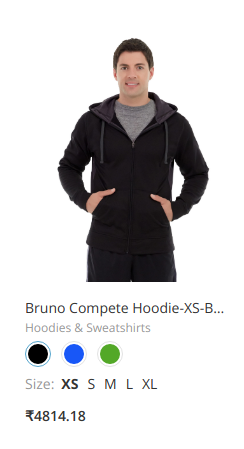 Swatches displays like this on the search results page, this helps users to check the variation of a product right on the Results page and it increases your add-to-cart events. Clicking on each variant Wizzy loads it's own individual details right in the product screen so the user is not redirected on the other pages.
Under swatches you just need to select the field you want to display as variation under product details. By default Wizzy adds Colors and Sizes on installation. You can add/remove it according to your store's requirements. 
If a product doesn't have that value to display as swatch Wizzy won't display the swatch on frontend but the main product is still displayed. Along with Colors and Sizes other custom attributes of the product can be added as a Product swatch. So it's totally customisable and highly scalable.