To Check Analytics, Follow the below steps
Login to your Wizzy account from https://app.wizzy.ai
Select the store for which you want to check the analytics.
Click on Analytics from left menu.

We display following stats on Analytics Page
All the stats are displayed for the selected range from the top of the page. You can check the history of analytics based on the account's subscription plan.
Searches: Total number of searches.
Unique Users: Number of unique users who did search or landed on search page.
Avg. Search per User: Avg. number of searches per user.
Zero Results Rate: Percentage of search queries which has shown zero products.
CTR: Percentage of sessions where user has clicked on autocomplete suggested products or search results.
Conversion: Percentage of search sessions which results in purchases.
Orders: Number of total orders received because of search in selected period along with total sales.

Along with top level stats, we shows following in-depth search analytics
Top Searches: List of top 10 searches of the store along with its count. You can click on Show More to see the list of top searches in selected time frame.
Zero Result Queries: List of top 10 searches which has shown zero results, Retailer uses this data optimise their catalog data.
Top Purchase Queries: List of top 10 searches which resulted in purchases, Retailer uses this data to plan their marketing campaign and landing pages.
Top Filter Keys and Values: List of top filter keys and values your users are using to filer our the search results. This adds great benefit to Analytics module to see the top most filter user are using and great way to filter out trending filter values. (e.g. Most filtered type of cloth, Most filtered brand etc…)
(Click on Show More in any of the section to see more data of particular section)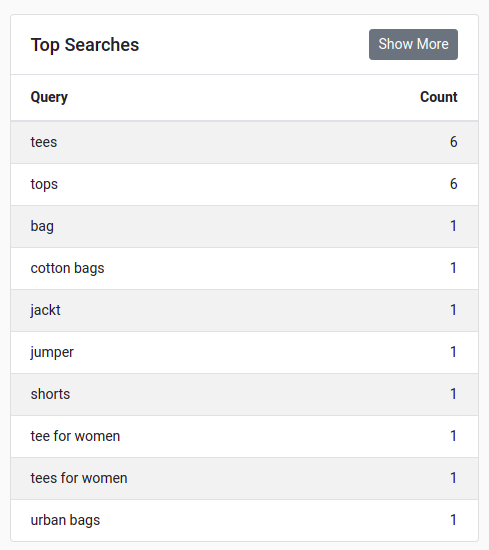 ---