Visitors who use site Search are more likely to purchase compared to those who use standard navigation, as they are shopping with an intent. The search box comes with the expectations of delivering results.
By keeping a regular health check of site search for showing more relevant results, a business can help visitors find what they are looking for, place them in control of their shopping experience & increase customer loyalty & conversions.
Go to Dashboard, select the Store for which you want to conduct the Health check and study the store status card. In this card, we display all the health checks of your store.
(Each health check would have a last updated date & different indicators indicating a different state of health checks)
State of each indicator is as follows:

Analysis
Synonyms health check reflects synonyms' health of your store. Each time a synonym is added, edited or deleted, Wizzy updates the Synonym health of your store.
Store Schema health check indicates the health of your store search. Whenever you push new products to Wizzy or get it synced directly from Magento/Shopify, Store Schema health will be rechecked by Wizzy. It ensures that your search is capable of discovering your entire Catalogue.
Autocomplete health check indicates the health of Autocomplete/Suggestions of your store. Similar to Store Schema, every time a new product is pushed to Wizzy either through API or directly from the Magento/Shopify, Wizzy will recheck the Autocomplete health of your store. It ensures that your store visitors get accurate suggestions from your catalogue.
Analytics indicate the health of Analytics part of Wizzy. Analytics health of the store will be checked every several hours depending on subscription plan of the account. It ensures that the generated analytics are up-to-date and is functioning well.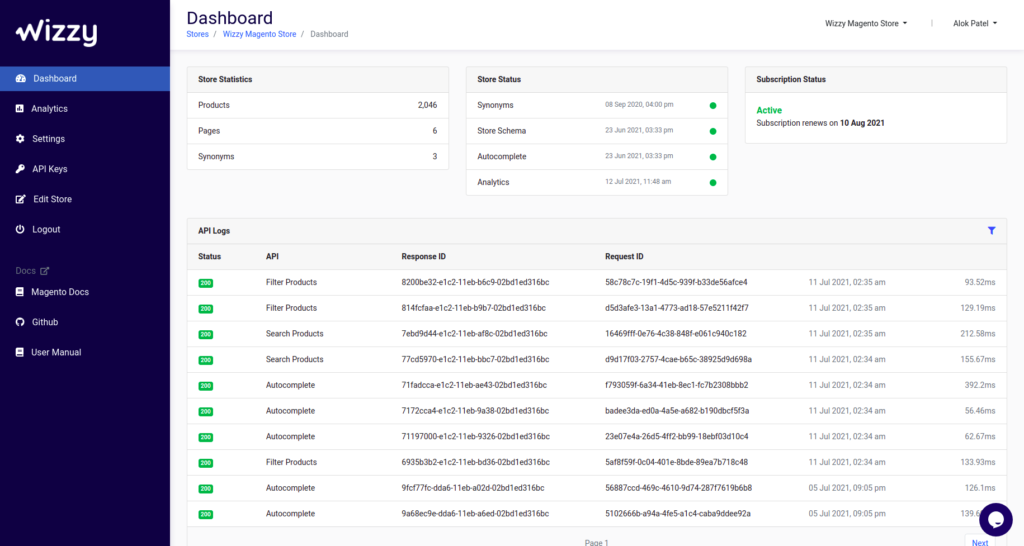 API Calls
Each and every API call of the store is logged on the Dashboard at the bottom of the page.
We display response status of each API call, most of the time you would see 200 status along with all API calls. In case you see any other status code except 200 (e.g. 5xx, 4xx) please contact Wizzy team to get the problem resolved ASAP.
With each API call you get Response ID and Request ID which is useful to track the issue in case of any problem, along with that clicking on any of the API log you will see in depth data of particular API call. (e.g. Time, API Data, Location, User ID Etc…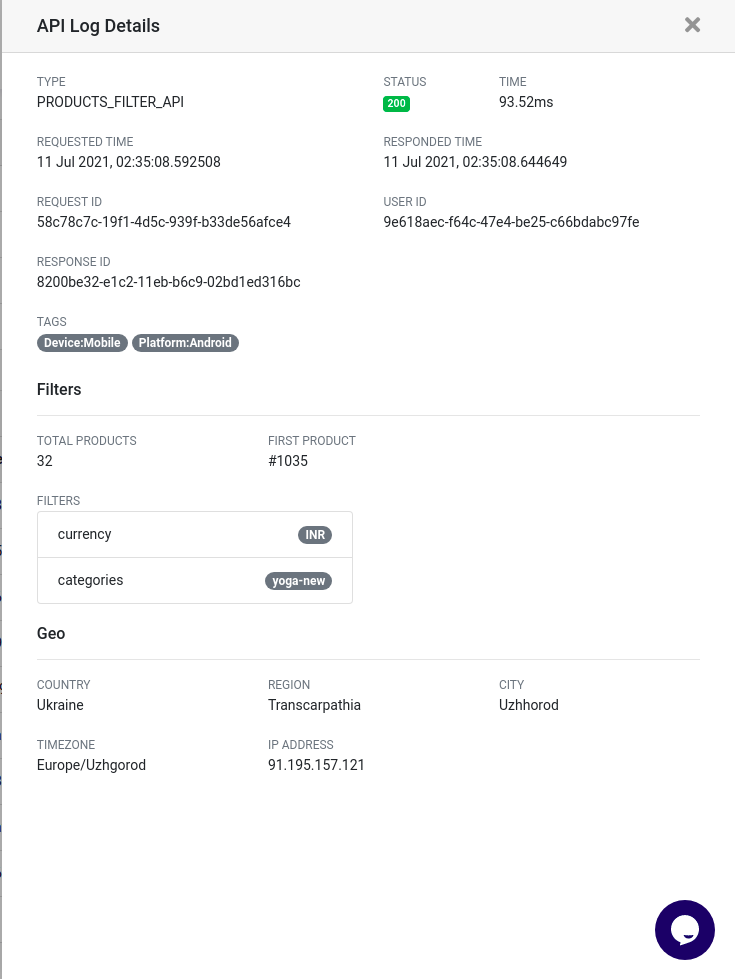 If any of the health checks is showing Red or Yellow indicator for a long time, please feel free to contact us on team@wizzy.ai. We will try to fix the issue as soon as possible.