Artificial Intelligence is creating a rapid shift in all aspects of life. The influx of machine learning algorithms will completely transform the e-commerce ecosystem in the coming years. Even the powerhouse brands are chasing the potential of AI for curating flavourful shopping experiences.
85% of the online customer interactions are handled without any human interference by the power of integrated AI. The next big wave of marketing tech will be through these self-learning algorithms. If you're a business owner running an e-commerce portal, pay close attention as we dissect all the possibilities in this article.
Index for easy navigation
1️⃣ – Enhanced user interaction and shopping experience
2️⃣ – Better conversion through personalised recommendations
3️⃣ – User-centric site search and results
4️⃣ – Inventory planning, management, and sales forecasting
5️⃣ – Implementing chatbots and virtual assistants
6️⃣ – Intelligent product tagging, assortment, and showcase
7️⃣ – Predicting shopping patterns and understanding user behaviour
8️⃣ – Combat counterfeit products and even fake reviews
🗣Wrapping up
1 – Enhanced user interaction and shopping experience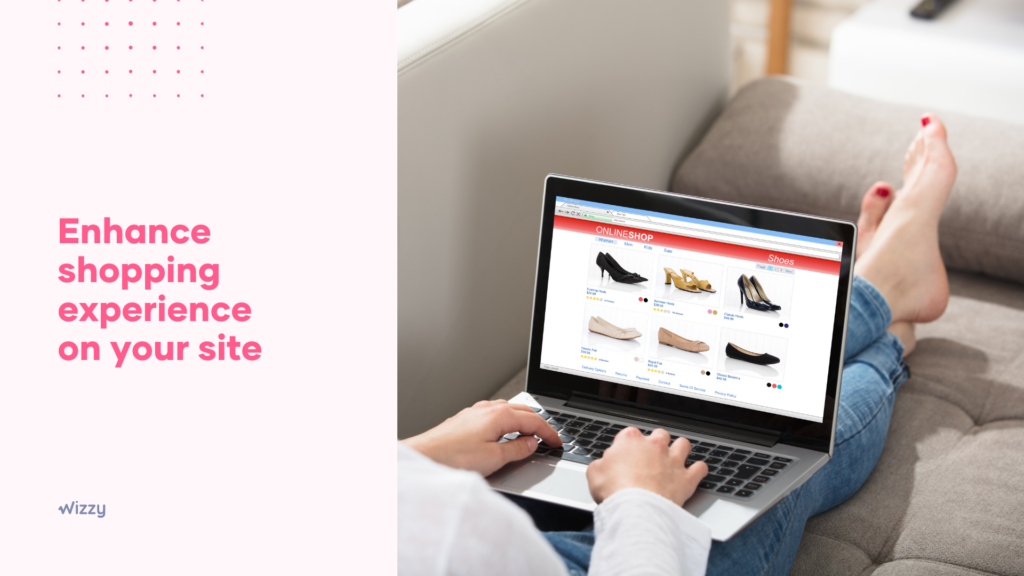 Reading your users' minds is what AI can precisely do for you.
You can also effectively determine shopping trends and purchase habits to forecast future sales prospects as a retailer. Through a thorough understanding of user behaviour and their metadata, you'll be able to distinguish the various user profiles, understand the market standings and create a more personalised shopping experience.
By making informed decisions, you can enhance the broad appeal of your shopping portal. Your entire website will be curated to understand what the customer wants and cater to the same leaving more room for robust personalization.
2 – Better conversion through personalized recommendations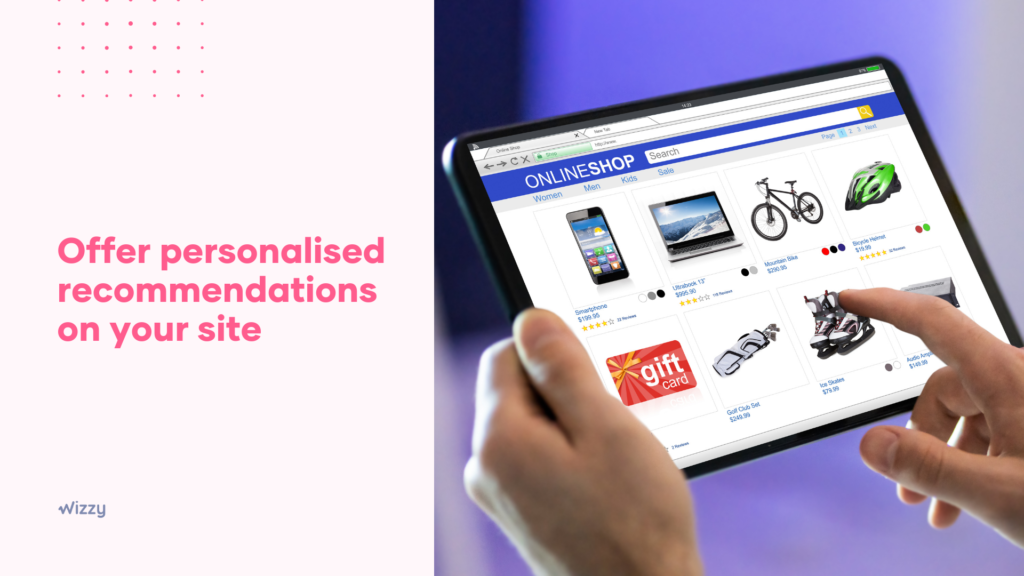 Offering an offline shopping experience in an online space by dynamically showcasing all the products that pertain to individual interests is how you can retain your visitors' undivided attention.
Your e-commerce should be nothing short of a recommendation engine. You should show the customers all the relevant products they might be interested in and increase the chances of pushing them down the purchase funnel.
When did you last say no to binge-watching a show that Netflix recommended to you? Not sure you ever did, right? This level of personalisation is how you can keep your shoppers hooked to your product offerings and your website in general.
There is just so much competition around in this virtual space. So, if you don't have a stronghold over your shoppers, they will switch tabs and let you go lost on the sidelines.
The integration and implementation of Artificial Intelligence will help you curate a hyper-personalized shopping experience. When you offer product recommendations that genuinely pike user interests, you will increase your prospects of conversions by a massive mile.
3 – User-centric site search and results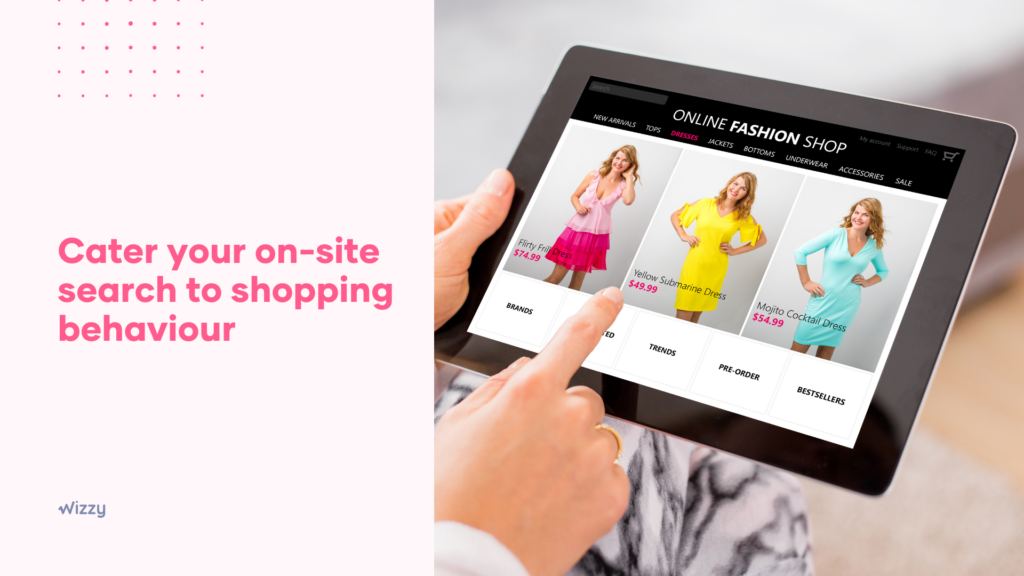 Site search is one of the most excellent tools you can effectively tap into to promote your content. This add-on will help you meet your business objectives while also catering to the exact wants of the shoppers who browse through your platform.
Only when the e-commerce visitor finds what they're looking for in a couple of clicks will they stay and find out everything else that you offer. By quickly navigating your users to what they desire, you can keep your visitors engaged as you retain their interest throughout their session time with you. It is not so uncommon that your bounce rates will spike up if your site search keeps displaying results that are irrelevant to what they want.
To tackle this, Wizzy incorporates a combination of machine learning algorithms, semantic search, and natural language processing to showcase increasingly relevant results.
With AI product tagging and assortment, there will be a better context to every last item you offer through your portal, and it will be easier to showcase your products with all the more relevancy. The average conversion rate increases from a site average of 1.7% to about 2.4% by using search box results.
A great example of effective site search utilisation would be looking at what Pinterest has been offering. The advanced image recognition will help the end-user navigate all the relevant media across the entire platform. This kind of search experience will play a critical role in helping your shoppers wade through every distraction and meet the products that match the intention of their query.
4 – Inventory planning, management, and sales forecasting
AI tools potentially unravel a lot of valuable insights that can help your business stay relevant in this extremely competitive e-commerce landscape. It will help you understand the market appetite and the products that your users are increasingly searching for.
Optimally pricing your products according to the market dynamics will give you an upper hand in business. This can be achieved by forecasting consumer behavior through complex learning algorithms. AI can thus take the bull by its horns and pave the way for effective inventory management and product assortment.
Dissecting data and deriving actionable insights can help you with increased conversions by understanding more about the kinds of products that your users are on the lookout for and empathizing with the market needs better.
You can also forecast demands and handle increased volumes of business when the velocity of your orders accelerates. This can be handy for pre-planning your inventory and its management during festive days or when you offer seasonal sales promotions.
5 – Implementing chatbots and virtual assistants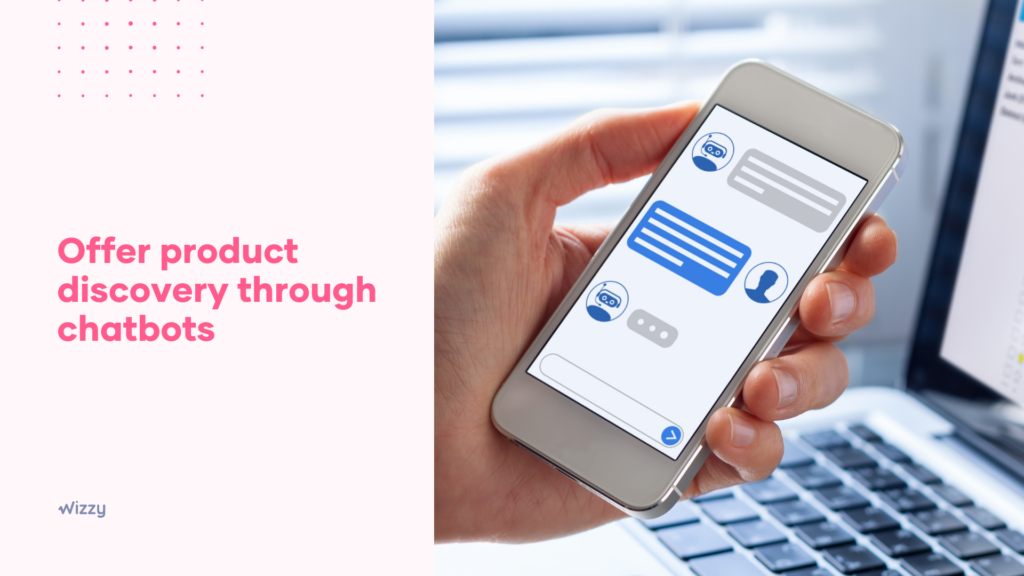 By improving the interaction with your users, you'll keep them on your site for longer times, making way for better conversion rates. Chatbots can make this engagement seamless and also support all the customer woes. With proper learning algorithms, you can effectively utilize your chatbots for customer data extraction and provide personalized real-time solutions by navigating them towards what they want.
The real struggle that e-commerce business owners face is no longer to keep up with the competition around. It is rather about curating better shopping experiences that can retain your audience base and keep them hooked with your product offerings than your peers.
With virtual assistants, you can bring your offline retail shopping experience conveniently online. They help understand the demands and preferences of your general audience and offer them an intuitive shopping experience with an added personal touch. They'll be your virtual sales representatives who will provide your users with convincing sales touches.
There's still a wiggle room for improvement when implementing these chatbots and virtual assistants. As a business owner, you should keep experimenting with newer technologies and make all the necessary integrations that can help you level up the hospitality of your e-commerce portal.
6 – Intelligent product tagging, assortment, and showcase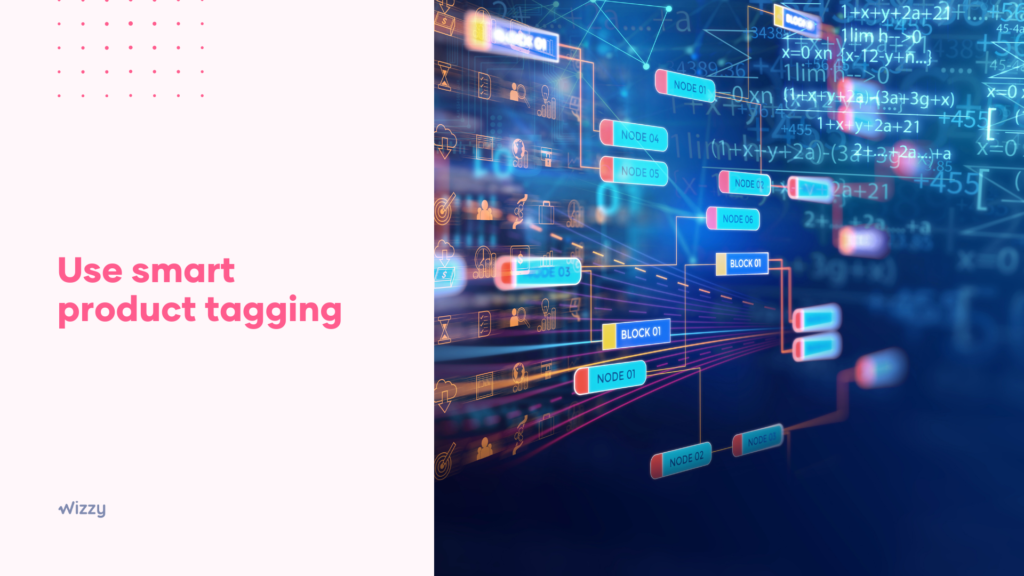 Product tagging refers to the process of assigning attributes to all your products, which will be the base for categorizing their position within your inventory. This is a collective representation of your entire range of products and will also aid in their metadata management, like the color, size, style, or type of the product.
Product assortment, on the other hand, refers to the process of navigating through your entire product catalog and pushing the relevant ones forward for maximum visibility. This will help you in generating more attention for products that are in demand or the ones that have the potential to sell at any specific point in time.
Doing this catalog management manually is just strenuous and seemingly impossible. AI-powered algorithms can help you with intelligent product management that is purely revenue-driven.
7 – Predicting shopping patterns and understanding user behavior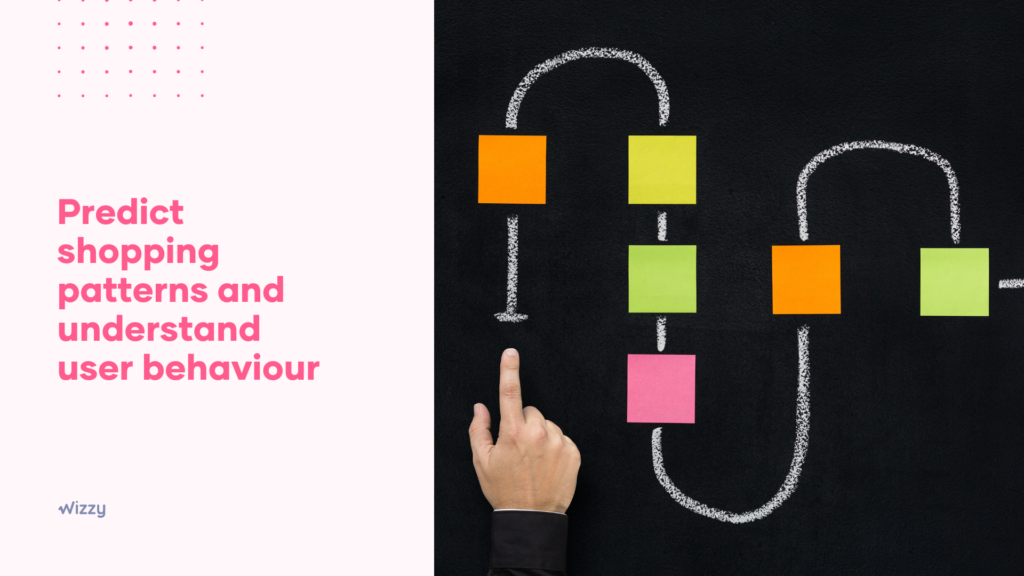 One of the significant aspects of Artificial Intelligence is that it can study, observe, learn and predict customer behaviour and shopping patterns. You can map the user journey from their initial interaction to the final conversion and the KPIs that have made these sales happen through various touch-points.
By tracing the source of initial interaction, you'll be better informed about what platforms give you the maximum visibility. You can also reap data like the best season for pushing a specific product or even a particular time frame where the influx of visitors who might be interested in particular product offerings is high.
These sales forecasting insights will help you tackle your inventory better, manage better business actions and avoid any stock run-outs or unforeseen shortages.
8 – Combat counterfeit products and even fake reviews
Online reviews are a base for the first level of product judgment. They can make or break your business. One fake review by a bot can ultimately make things go haywire for you and tarnish the reputation you've built for years.
93% of online shoppers say that product reviews impact their purchase decisions. And 54% of the users say that they wouldn't go with buying a product if they suspect it to have fake reviews. Manually navigating hundreds and thousands of products and assorting these reviews is hard. Even companies like Amazon have been employing AI algorithms to tackle this problem themselves.
Counterfeit products are also rapidly in circulation in the online marketplace. Let's take protein supplements, for example. In India, almost 60% of these supplements are counterfeit products that are harmful to health. You're running the risk of being sued by your consumers if you don't manage this problem upfront.
By drawing data from multiple online marketplaces and analyzing the customer perception of these products through reviews or other social engagement, AI can effectively determine these products and help you push them out of your inventory.
Wrapping up
We live in a time where there are a lot of distractions, and the attention span of your e-commerce users is rapidly decreasing. As an e-commerce retailer, you should ideally analyse the millions of interactions with your audience base each day, understand the insights, and break down the data to curate a personalised shopping experience for every last customer.
Through effective integration and deployment of AI algorithms, this is well within reach. AI can redefine the way you understand your customers and help in bridging all the gaps that are stopping you from better user engagement and conversion.
Check out Wizzy's advanced machine learning-based site search engine, that transforms the way shoppers discover products on your site. From a business perspective, Wizzy gives you insight into search behaviour that tells you which search terms lead to more sales, which search terms didn't lead to sales, etc. With these insights, you can influence what shoppers see in search results and sell any category of products at any point in time. Visit Wizzy.ai to learn more.
Further Reading