Creating an e-commerce store involves taking thousands of decisions. From UI and back-end development to CMS and web hosting, you want every element of your website to be user-friendly, which ultimately helps in acquiring more customers. The website's navigation structure also plays an important role from the usability perspective. It is crucial for driving user experience and conversions. However, when considering how your products or content will appear on the page, it all boils down to two main strategies: pagination and infinite scrolling.
Pagination is the content display technique in which the products are divided into multiple pages, where infinite scrolling groups products into a single page and allows visitors to scroll down the page endlessly. Social media giants like Facebook and Instagram use infinite scrolling to keep their users engaged with no intention to sell particular products or services, while e-commerce giants like Amazon and Ali Express prefer using pagination as it makes easier for their prospects to discover products.
Many e-commerce owners and designers struggle to decide which method would appeal to their online store the most and fulfill their final goals. Therefore, in order to help you decide which one to choose for your requirements, we will give you detailed information about what exactly pagination and infinite scrolling techniques are, and their pros and cons, so you make an informed decision about improving your site experience.
What is Pagination?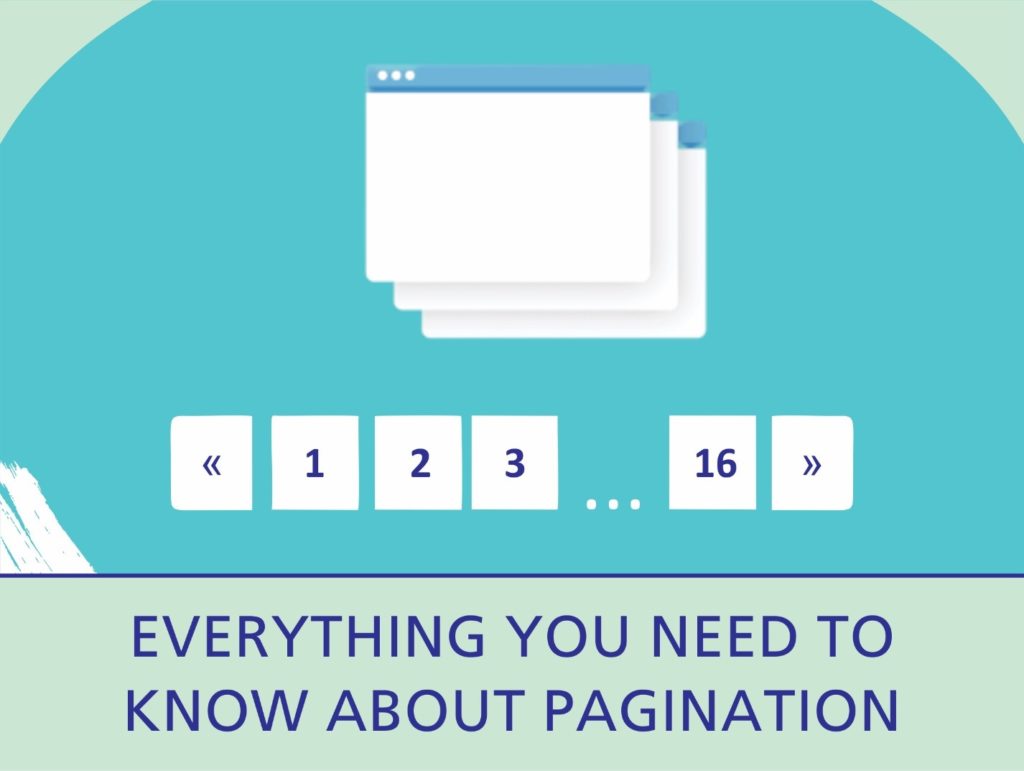 Pagination technique simply means dividing the products across several webpages and allowing users to navigate through these pages. Rather than creating a lump of products on a single page, pagination creates a continuous series of pages to divide the products.
As you scroll down to the bottom of the page, you will see certain page numbers. These page numbers are the navigation controls that allow users to directly access their desired page, be it the first or the last page, through manual clicking. They also send signals to the Google crawlers that the products on these pages are connected, although they are separated by pages.
Pros of Pagination
Improved Conversions
Conversion is an important factor to consider when it comes to improving your sales. This technique is particularly useful when the user has visited your site with a purpose of making a purchase rather than just scrolling. Although an intelligent site search will provide your users with the most relevant results, pagination will help them locate their desired products in a considerably lesser time. As a user, you will be able to get an idea about how many results page you need to check.
Better Navigation Control
Pagination allows users to go to the bottom of the page and reach at the top of the page, giving a better control to navigate to the different parts of the site. Furthermore, since the users can see the number of pages, they will be able to calculate how much it will take to browse all the items. The number of pages also tells the users if they want to filter down the results.
Better User Satisfaction
When the users are presented with a number of definite and relevant results, they are able to make a more informed decision rather than be left to wonder about the end of the list. Reaching at the end of the results gives a sense of satisfaction. When users know they have explored all the choices, they feel satisfied and end up placing the order knowing that they have picked the best suitable products.
Cons of Pagination
Require Extra Efforts
Users are required to perform extra actions in order to navigate in the pagination technique. They need to hover the mouse to the page number, click on the page number and then wait for the page to load. This may sometimes discourage the user to view anything beyond the first page.
Interrupt the Flow
Pagination acts as a barrier when we consider seamless browsing experience. Since the pagination technique requires users to click on the page number to navigate, this may disrupt their experience and break the interaction.
Confuse the Users
You need to add certain navigation controls in the pagination method. However, this doesn't give them extra choices, but adds confusion, which may discourage the user from interacting at all. In the worst case, users may not notice pagination controls and assume that the products that are currently visible are the only available products.
What is Infinite Scrolling?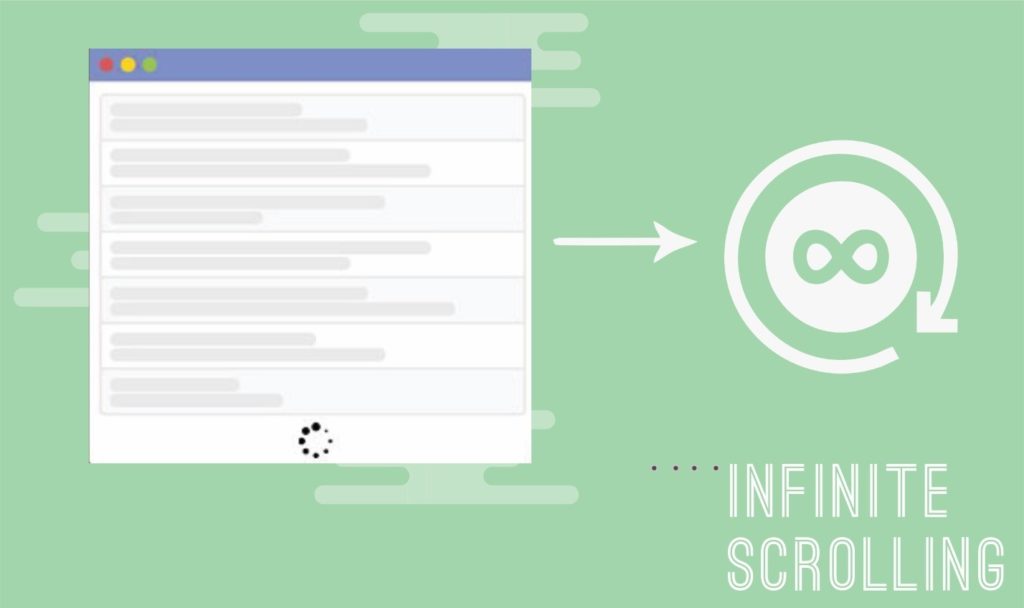 Contrary to pagination, infinite scrolling doesn't divide the total number of products into multiple pages. It displays all the results on the single page. As the users keep scrolling down the page, the new set of products appears automatically with no certain end of the page.
Infinite scrolling doesn't require users to visit different pages, or click anywhere to view more results. The results keep refreshing as they scroll down. This technique is also known as endless scrolling or progressive loading.
Pros of Infinite Scrolling
Enhance User Engagement
The main aim of infinite scrolling is to keep your users engaged and make your products easily discoverable. When you continually present your users with new products and content, they are likely to spend more time on your website. If your website contains a massive amount of content, infinite scrolling allows your users to conveniently browse through the information without putting extra efforts.
Mobile-friendlines
The popularity of mobile apps and mobile sites has further increased the importance of infinite scrolling. Since the mobile screens are considerably smaller, they can display on a few number of products. Therefore, the gesture controls in mobile devices have enabled intuitive and user-friendly scrolling. The longer scrolls on mobile phones have proven to deliver a responsive browsing experience.
Scrolling is Easier Than Clicking
Researches have shown that users have a convenient time scrolling the page rather than navigating to the bottom of the page and then clicking on the page numbers. That is because touchscreens, mouse wheels and trackpads have made scrolling faster and easier than clicking. Since it doesn't slice up the page into several parts, it enhances overall user experience.
Cons of Infinite Scrolling
Hard to Remember Items
Since infinite scrolling loads all the products on the single page under a single URL, it can be sometimes difficult to locate the products where they were previously found. For instance, while scrolling, if the users come across a likeable product, and they further scroll down to find a better one, it can get very annoying to go back to the same product they liked before. Simply put, they cannot bookmark the location and they have to search again to find the same product, which impacts an overall user experience.
Slow Page Loading Speed
Page loading speed directly affects the user experience and site performance. Studies have shown that customers don't like using the site that takes too much time to load. And, as the users load more content on the same page with infinite scrolling, the page performance is hampered. This particularly happens on mobile devices as the users scroll so fast with their finger that the site doesn't get a chance to breathe.
Cannot See Footer
The footer of the website contains important information about company, terms and conditions, privacy policy and social media links. When it comes to infinite scrolling, it becomes very frustrating for the user to reach the footer since the scrolling will keep revealing new products and pushing down the footer even further.
Pagination Vs. Infinite Scrolling – What Should You Choose?
If you want to keep your prospects engaged and let them discover all your products, infinite scrolling may be a good pick for you. Infinite scrolling may work the best for your business if you don't have a high volume of products. But, if your e-commerce site contains hundreds and thousands of products, it is better to use to pagination technique as it sorts products in a structured manner. Business owners should consider both pros and cons of the pagination and infinite scrolling before choosing the one. If you are not sure which navigation technique suits your business the best, run testing experiments, examine the results of each approach and observe which brings maximum conversions.