If an e-commerce portal goes the extra mile to offer you a unique and personalised shopping experience every time you visit it, will you stop going back to them? This kind of customer loyalty and business longevity is what personalization can do for your online shopping portal.
Consider a retail shopping experience of a brick-and-mortar shop. The sales reps here will have room for understanding your customers' whims and wants by observing them up close. When it comes to e-commerce portals, relying on the collection, dissection, and thorough breakdown of all their data points will help nurture your visitors' shopping journey.
Any online store with an optimised customer experience will steer clear of the competition and stand out in the eyes of the shoppers. This guide presents eight strategies to help you create personalised shopping experiences on your site.
With the advent of Artificial Intelligence and machine learning algorithms, you can understand your customers better, and you can help them find what they're looking for a lot faster.
Here's a guide that can help you with deeper insights on what you need to personalise on your portal to make your users' shopping experience unique and seamless.
Index
1️⃣ Create a personalised homepage
2️⃣ Demographics-based product optimisation
3️⃣ Display recently viewed items
4️⃣ Personalised Recommendations
5️⃣ Onsite search with more relevancy
6️⃣ Dynamic Pricing
7️⃣ Provide virtual shopping assistance
8️⃣ More offers and incentives based on user behaviour
1 – Create a personalised homepage
The homepage is like the front door of your e-commerce store. You need to greet your customers and lead them towards browsing through your product catalogues in the best way possible. The freshness of your site will entice them to stay longer.
With personalization, you can eliminate all the distractions and show your customers the products they desire to buy.
By collecting cookies on your e-commerce site, you'll know the history of your visitors and leverage this information to understand their shopping patterns and interests. Your homepage should lead your visitors to the product categories of their interest and make your site more relevant to them.
2 – Demographics-based product optimisation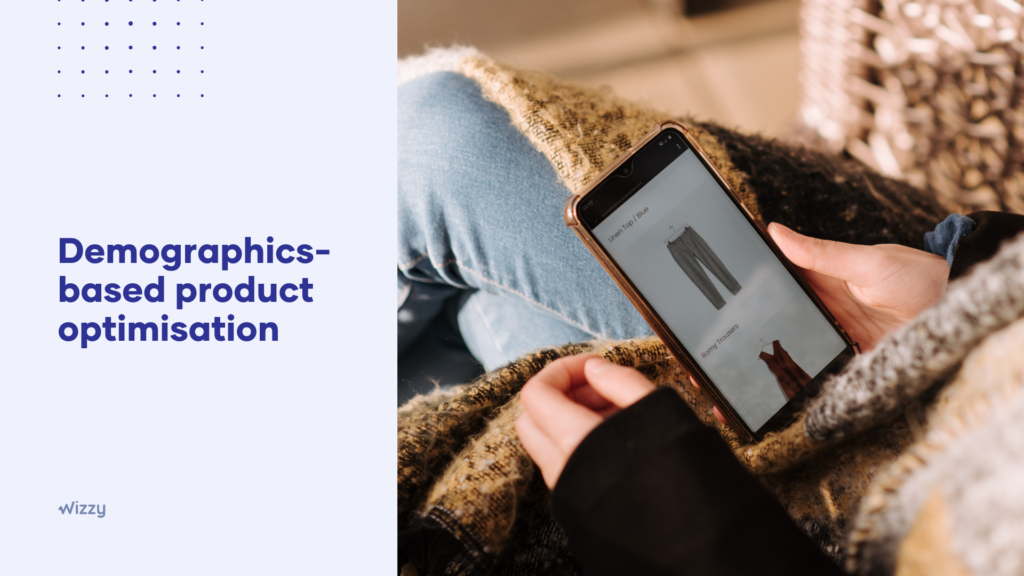 Your entire sight should reflect an image that syncs with the persona of your visitors. Every item you display on your site should resonate with the particular users' demographics, Iike their age, gender, geographic location, shopping patterns, etc. A cumulative knowledge of all this will help you speak directly to your site visitors, increase engagement rate, and convert more visitors to sales.
Curate your homepage to be relevant based on the location of your users'. This personalization will help you show products according to the market demands of that particular region. For example, showing winter clothes in India during this period of scorching summer will make your website more irrelevant at first sight.
The pricing of your products should be transparent upfront, and you should list them according to the currency of your users' region. This will prevent site abandonments as they proceed towards the cart and final checkout.
Other elements like size charts accompanied with conversion indexes will help your users purchase products that fit them right and retain them to come back again.
3 – Display recently viewed items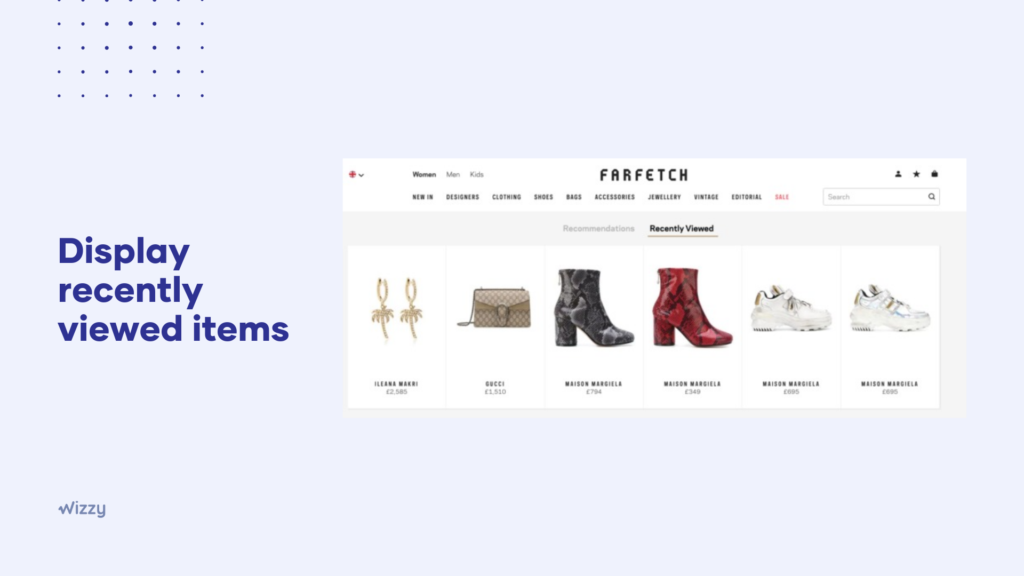 Entertaining returning visitors by reminding them about the products they were previously browsing might help them continue their shopping journey from where they left the last time. You can lure them towards conversion by offering personalised discounts or offers on these products.
Help your visitors pick up where they left off by showing these prominently as a separate home page section. Integrating third party widgets can help you show a 'Recently Viewed' section automatically on your homepage. You can also employ cross-selling and upselling techniques to increase the average cart size.
4 – Personalised Recommendations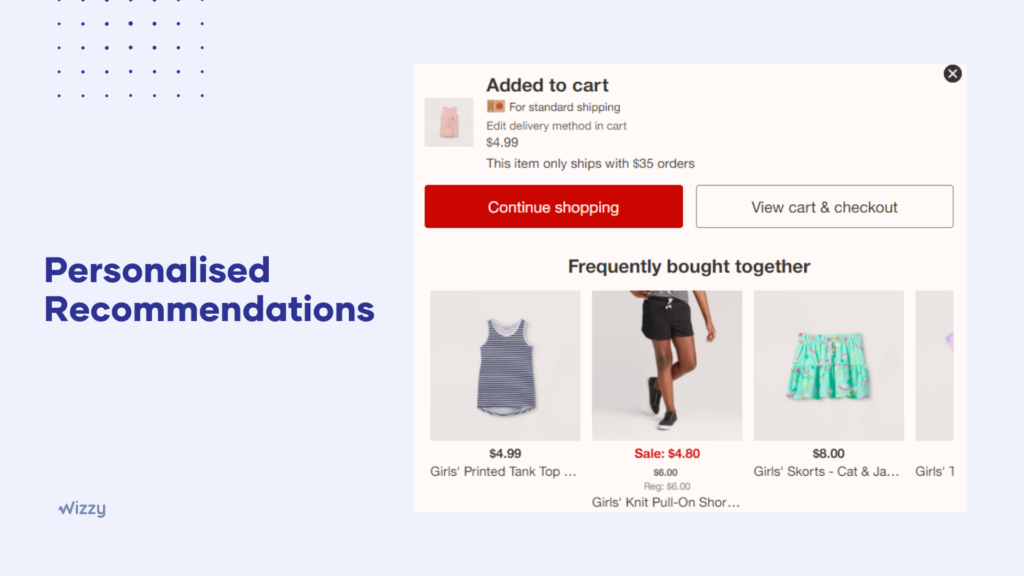 When your customers come back to your site, greet them with a list of products that are relevant to their previous purchase. A 'frequently bought together' tab or 'you might also be interested in' tab on your product page can serve the purpose.
Shoppers want to buy products from sites that notice, understand, and know what they want. 35% of what people buy on Amazon and 75% of what they watch on Netflix comes from what they recommend to their customers based on sophisticated algorithms.
You should capture your site traffic by motivating site visitors to sign up for your brand newsletter and keep communicating with them once a month (at least).
Pique curiosity with personalised subject lines with their names and something that will make them take a second glance. Remind them about abandoned carts, educate them about your products and the problems they solve, or even make it a little quirky. For example, you can send an email saying, "Rakesh, we missed you. Here's something we offer on sale for you to come back".
Recently, push notifications of amazon, Swiggy and Zomato have garnered massive attention because they curate their messaging to be flavourful. These strategic efforts remind your shoppers to keep coming back to your site.

5 – Onsite search with more relevancy
Did you know that leveraging onsite search and optimising it can increase your conversion rates by up to 43%? Nearly one-third of your visitors will utilise internal site search to find the products they have in mind.
Your search results should perfectly match search intent. Of course not all shoppers know what they are looking for, but it is up to your search engine to understand every word of the search query and match that intent with the right products.
Wizzy is a search engine tool built for achieving this purpose. Make your shoppers find products they desire and buy them on your site.
What about understanding the search intent behind every search query? The Natural Language Understanding model will help decode unstructured search queries and help your visitors only see the most relevant results with every question.
Through a combination of Artificial Intelligence, round-the-clock data analysis, and machine learning algorithms, Wizzy can help your site search understand search intent and showcase products that will connect better with your site visitors.
In addition, it will also make your search navigation a lot simpler and easy for your site visitors to browse through. Deep learning principles will help you with different data points and even a thorough buyer persona understanding.
6 – Dynamic Pricing
Did you know that Amazon changes its pricing almost every ten minutes?
Dynamic pricing of products is usually carried out based on your competitors' pricing, traffic segments, the time of the day, product sales, etc. Real-time understanding of insights like the geographic location of your visitors can also play a role in pricing optimization.
You can improve your profit margin with dynamic pricing strategies'
7 – Provide virtual shopping assistance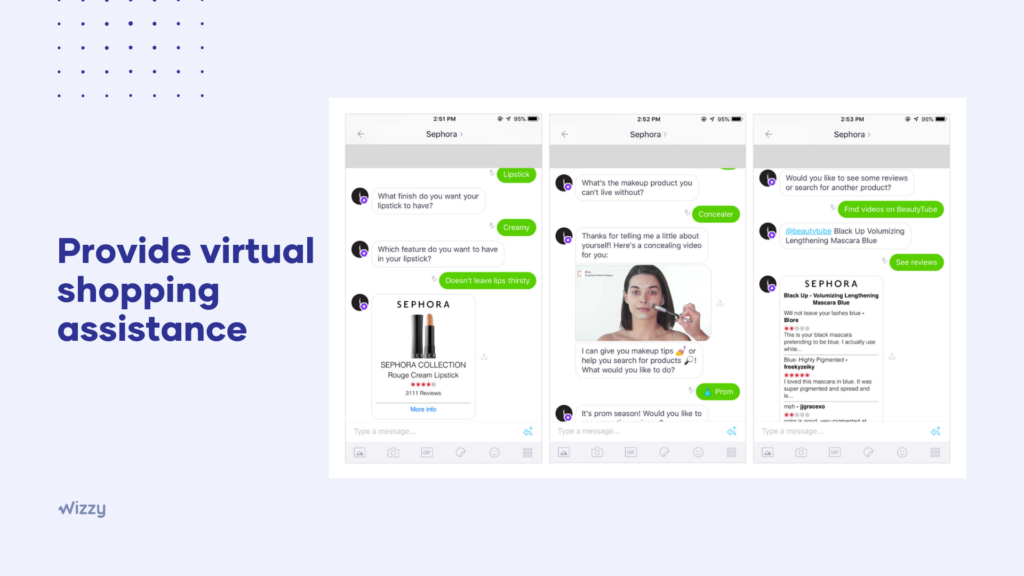 Virtual shopping assistants operate with one goal: Humanising the digital shopping experience. These assistants will create a better sense of connection as your shoppers browse through your products, and receive immediate assistance as and when they need it.
Through product disclaimers, details, advice, style guides, store tours, or other guidance, virtual assistants can keep your users engaged by offering all these. You can submit video chat, live chat, or chatbot assistance to your visitors to make their shopping journey with you comfortable and backed by 24/7 customer support.
Shoppers who use these virtual assistants like video chats are four times more likely to make a sale with you.
8 – More offers and incentives based on user behaviour
Now, this is where the heart of personalization lies. Your visitors need to feel seen and heard. They'd be more hooked to your product offerings when you give them a push by centering your efforts around them.
Personalization can also help you win back visitors who have abandoned their cart midway or lure back those who have already made a sale with you in the past. Give them special one-off discounts to generate new orders.
Imagine an e-commerce store sending you a greeting on your birthday with a special discount on the product you were previously interested in. It'll make you feel more connected with the particular brand.
Free shipping, discounts on the products or accessories, limited period sale or special gift vouchers based on their shopping history with you will make your customers more interested and engaged with you.
Wrapping up
Personalisation starts with showing what your customers want when they want it.
Wizzy can make this happen for your e-commerce portal by optimising your site search according to user preferences. See how and where Wizzy can help you sell more with a personalised demo by clicking here.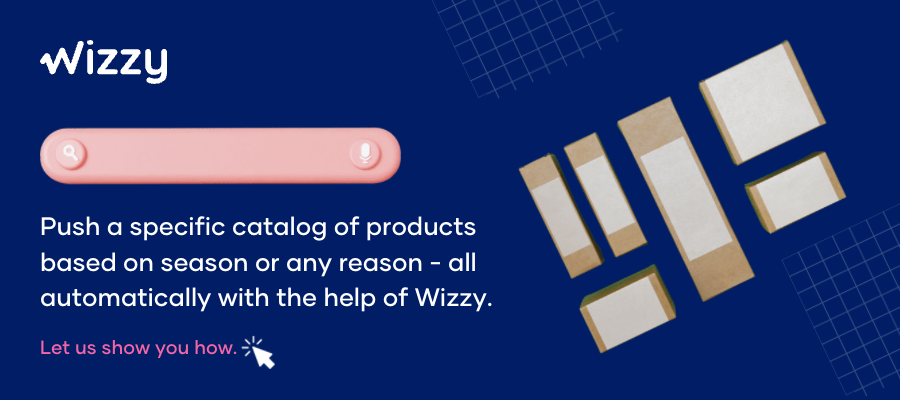 Further Reading