Most e-commerce stores pay a lot of attention to site analytics to understand visitor behaviour.
While it is crucial to understand how shoppers move, where they click, which page they spend time on, and how they exit the site—we can learn so much more about our shoppers by looking at how they search for products—also called search analytics. A sophisticated search engine—one purpose built for e-commerce—is a necessary investment to grow sales and revenue.
Can your site analytics tool (like Google Analytics) tell you how shoppers search on your site? Unfortunately no. You need two things to get to a stage where you can sit back and analyse search behaviour on your site in great detail and in real-time:
1 – An intelligent search engine that works like Google search or Amazon shopping search—that integrates with your e-commerce site's front-end.
2 – The search analytics engine (built into the consumer-facing search technology) constantly learns and collects search behavioural data and throws light on shopper search behaviour.
The good news is that such sophisticated search technology exists, and it isn't expensive. We have built such a search technology called Wizzy, and we want to share the story of an apparel brand—a story of how it is thriving with the help of Wizzy's intelligent search.
Being one of India's popular apparel brands, it drives a lot of traffic to its website. The brand depended on a stock (default) search bar until they realised the importance of a smart site search to grow their business. Let's look at how they monitor shopper search behaviour and have grown its search-to-sales conversion by 200%.
The Search Analytics Story
Let's Start At The Beginning – How Many Searches Are Conducted On This Brand's E-commerce Site?
The brand's stock search bar did not have a search analytics engine built into it; there is no way to know how many searches were conducted before integrating Wizzy's intelligent search. However, the site received 500,000 visits of traffic each month, and we can surmise that a healthy percentage of this traffic might have used the search bar.
What is the case today: With the help of Wizzy, the apparel brand's e-commerce site generates 100,000+ searches per month—out of which 70% are contextual search queries.
Imagine Typing A Search Query And Getting No Results
A case where search queries return no result is called a Zero Result. Before integrating Wizzy's smart site search on the site, the brand saw a zero result of ~7%, which means that 7 out of every 100 searches led to nothing—a bad search experience for shoppers.
What causes zero search results?
Essentially zero results are caused for two reasons, a) the on-site search isn't properly integrated with the product catalogue and product tags, or b) shoppers look for products that the brand doesn't sell.
While the first case can be dealt with and fixed, the second case is unavoidable—there will always be a case where shoppers search for something you don't sell.
As zero results cannot be eliminated, the brand wanted to reduce it. The industry threshold for zero results is less than 2%. By integrating Wizzy smart search, the brand capped its zero results at 0.87%. A massive reduction of 87%.
Why it matters: Only less than one search out of every 100 searches leads to no result (which is frankly unavoidable); the brand generates relevant results to queries and delivers relevant, accurate search experiences every day to almost every other search query.
How did this happen: Wizzy's search technology allowed the brand to connect the search bar with every piece of product information. It also learned from every search query and made connections with the right product—thanks to artificial intelligence and natural language understanding. For example, if you search for 'saree for haldi' or 'saree for farewell,' the brand's search engine perfectly understands the product and the occasion from the search query and leads the shopper to the most relevant search results.
Conversion Rate Improves By ~3X
Only 5 out of every 100 searches led to a sale before integrating Wizzy on the site. Today, Wizzy has helped the brand convert 14% of searches into sales. That is 14 searches out of 100 is a guaranteed sale today.
It's the same story with order conversion. Before Wizzy, the brand sold less than 50 orders through on-site search. Today, it is selling 117 orders directly through the on-site search.
What does this mean: 3X more shoppers are buying products, and the number of products sold through search has increased by more than 2X.
More Than 70% Of Search Is Contextual
Wizzy allows the brand to go a little deeper to understand the type of searches. Glancing at search analytics today, the brand sees that nearly 70% of all search queries are contextual and have at least three or four keywords in the query.
What does this mean: Today, shoppers search like they talk, and they expect a Google-search-like search experience wherever they go. As a result, the search queries on the brand's website are:
Longer – e.g., saree for haldi in blue
Contextual to gender – e.g., cream kurta for college boy
Contextual to occasion – e.g., saree for farewell, saree for haldi
Contextual to price – e.g., lehengas under 5000
Contain spelling errors – e.g., lhenga in red
Contain synonyms – e.g., dress for wedding girl, dress for bride
Contains product code – these are search queries resulting out of sales promotions run on social media with discounts for specific product model numbers. Wizzy allows shoppers to copy-paste the product code and see the exact product in the search results.
And more.
Wizzy's intelligent search perfectly understands these nuances, contexts, and even spelling errors and consistently delivers the most accurate search results.
The Brand Recovers Investment on Wizzy Smart Search Technology by 21X
So many software, apps, APIs, and plug-ins are created to run e-commerce businesses smoothly, manage their business, and drive more traffic or sales. Of course, a lot of apps deal with creating personalised shopping experiences.
Essentially, there are too many things to consider, which overwhelms business owners or store managers quickly. Maybe this is why most e-commerce businesses focus on the bare essentials to run their business and pay little attention to things that can transform their business.
The brand in conversation was in a similar dilemma while choosing the right search technology app or partner. The good news is that the brand has recovered 21X worth on their investment in Wizzy's smart site search subscription.
The Brand Pays Attention To A Lot More Nuanced Search Metrics
Beginning with top searches that highlight the most popular search terms, the brand today pays attention to metrics such as zero-result queries, top searches that led to a sale, and top filter elements used frequently.
Learning about search behaviour more profoundly is helping this brand deliver better shopping experiences and therefore drive more sales and revenue consistently.
Summing It Up – Highlighting The Business Outcome From Using Wizzy Smart Search
A few stats have improved massively since Wizzy was integrated with the brand's e-commerce website.
Search-led conversion improved by more than 200%
100,000 searches are conducted each month
14 out of every 100 searches lead to a confirmed sale
Zero results reduced by 87%
Search-to-sales conversion improves by 3X
More than 70% of search queries are contextual and long
Why Wizzy Is Your Best E-Commerce Site Search Technology Choice
At its core, search connects shoppers with the products they want.
In e-commerce, this means connecting shoppers with the products they're searching for and making their shopping journeys more enjoyable, natural, and fulfilling.
The problem is that many site search tools don't provide a great user experience. They fail to understand the search intent and return irrelevant results, leading to lost sales and frustrated users.
An excellent site search tool can do much more than provide a simple list of search results or autocomplete suggestions. It should give your users a seamless shopping experience by automatically understanding their intent and desires, regardless of how they phrase their queries.
Here are a few ways Wizzy transforms site search for e-commerce stores
Understand shopper intent: Wizzy helps your site better understand visitors' intent and shows them exactly what they want to buy.
Personalised search experience: Increase sales in your store by making shopping experiences more personalised, faster, and reliable.
Understands natural language: Wizzy's NLU models understand search queries that are long and unstructured and improve search results by learning visitors' search queries continuously. Meaning your visitors see relevant search results all the time.
Offers smart suggestions: Wizzy enables your shoppers to quickly see smart suggestions relevant to every word they type on your search bar. Our popularity algorithm constantly understands what shoppers search and click, improving search results continuously.
Gives you in-depth, real-time analytics: Wizzy analytics allows you to understand why a sale happened, why a sale didn't happen, and how many searches directly led to sales. All in real-time. Wizzy also tracks visitor behaviour and generates insights you can use to make positive changes to your business.
Easy to integrate and run: Use Wizzy on any platform, even on a custom-coded website, with 100% smooth integration and support. And increase your product visibility by maintaining a clean catalogue. And more.
Visit Wizzy.ai to learn more or request a personalised demo by clicking here.
Want to take a look at how Wizzy works in real-time? Book a free demo now.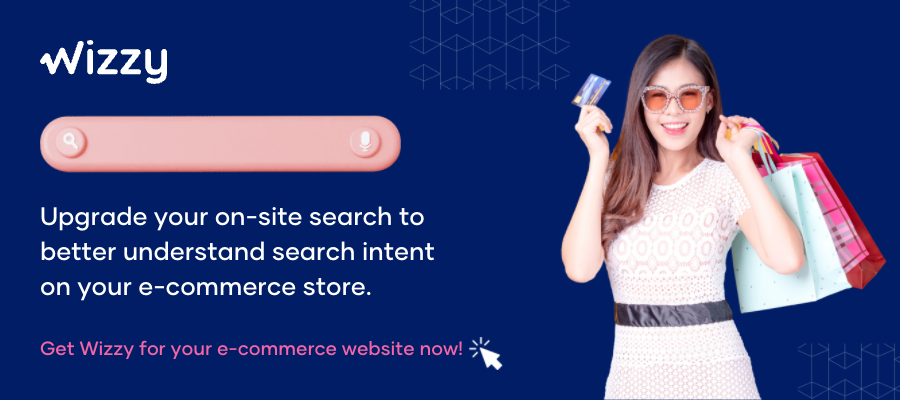 Further Reading