Index
? Why Is Cart Abandonment A Big Deal?
? Seven Reasons Why Shoppers Abandon Their Carts
? 1 – Unexpected Charges
? 2 – Long And Complicated Checkout Process
? 3 – Long And Complicated Return Policies
? 4 – Finding Out That There's No Express Or Free Delivery
? 5 – Lack Of A Good Bargain – Pricing
? 6 – Lack Of Payment Security
? 7 – Errors, Bugs, And Crashes
? How Effective Is Your Site Search?
Why Is Cart Abandonment A Big Deal?
Cart abandonment is when customers add a few items to their shopping cart but don't proceed with payment. According to Baymard Institute, 69.57% of the items added to an online shopping cart are abandoned.
For every 100 items added to a cart, 70 of them don't make it to the payment gateway.
If you are hitting $10,000 in revenue, you could make $70,000 extra if you turn those abandoned carts into complete purchases.
It's reported that eCommerce stores lose $18 billion in sales revenue each year because of cart abandonment.
A whopping USD 4 trillion worth of goods, are expected to be abandoned in the next year. It's high time we focus on increasing cart abandonment rates and find ways to tackle it.
According to Statistica, the average cart abandonment rate on mobile phones is 86%, the average cart abandonment rate on tablets is 81%, and the average cart abandonment rate on desktops is 70%
This article will cover seven primary reasons why shoppers abandon their cards and how you can tackle these challenges.
1 – Unexpected Charges
E-commerce owners try to entice customers by offering discounts and sales and displaying low costs on product pages. While this tactic might flood the carts, customers would rarely complete the purchase. Hidden costs are the number one reason why customers abandon their carts.
A few also add items to the cart only to check the final prices, thus increasing abandonment rates.
Customers almost feel deceived and lose a sense of trust and credibility in your brand. These tactics increase cart abandonments and extrude consumers from making any further purchases affecting customer retention rates.
Solution
One excellent tactic is to bundle the extra shipping cost into the product cost itself. Avoid surprising your customers with hidden charges; add all additional expenses to the product price. This would smoothen the buyer's journey and avoid breaking the sales cycle.
Customers don't have the privilege of meeting a walking and talking staff. They don't get to touch and feel products; on top of it; such hidden costs could create a sense of distrust among them.
We know you want to add all your customers to your email lists, send them Christmas, holiday, and new year offers, and wish them on their anniversaries and birthdays.
But here's the catch. According to an article by BBC, the average human attention span in 2022 has dropped to 8 seconds. Above that, your customers have a thousand other products to look at and thousand other websites to browse through; they are most likely to feel deceived, drop the purchase, and move on to other stores.
2 – Long And Complicated Checkout Process
By adding more and more screens, you are only taking away your company from hitting significant revenues. A complex checkout process is one of the primary reasons for cart abandonment.
28% of potential customers abandon theirs due to long and complex checkout processes.
Ecommerce owners add several screens, including feedback forms, reviews, etc.
Possible reasons for complicated checkouts could be adding numerous screens.
Adding barriers during purchases is only cutting your revenue short.
Solution
Reduce the number of screens between placing an order and confirming payment. Allow auto-fill and auto save for a smoother experience.
Offer guest checkout at least for the first few purchases, don't make account creation mandatory. Introduce the checkout process once a purchase is made. Once customers have quickly completed the purchase, add a small pop-up asking for emails, names, birth dates, etc.
3 – Long And Complicated Return Policies
Many stores don't put much thought behind return policies, although 49% of online consumers check the return policy before ordering something.
Long, complicated, and ambiguous return policies make your customers rethink their purchases.
A particular piece might not fit properly or look different compared to the product image. While the e-commerce space restricts touching, feeling, and physically trying out products, customers look out for return policies and compliances.
Stores usually involve an extended return policy or charge an amount for the returns. Both could irk the customers and deter them from making a purchase now.
Solution
Add a 15-30 free shipping policy; even though your customers don't opt for it, free shipping builds a sense of trust. If anything goes wrong, if the piece is ill-fitted, consumers have the assurance they could quickly return it. Offering a free return policy can massively impact cart abandonment rates.
4 – Finding Out That There's No Express Or Free Delivery
Delivery timeframe affects cart abandonment rate; customers expect their products to be delivered on time.
While brands don't forget to wish you on your birthdays and anniversaries, most humans are likely to miss those.
Solution
Providing express and single-day delivery would hugely benefit leveraging such last-minute events. Here's where stores can leverage express and single-day deliveries and increase returns on their marketing expenditure.
You remind them on their birthdays but don't allow single-day delivery for last-minute gift purchases?
Offer various shipping options like express delivery, same-day delivery, and overnight delivery. This allows customers to pick and choose an option that suits them the best.
5 – Lack Of A Good Bargain – Pricing
Pricing remains one of the significant factors customers consider before making any purchase. With eCommerce, it's become easier to do comparison shopping.
There's no need to walk an extra mile; one could easily navigate similar products, compare prices and choose the perfect fit with one click of a finger.
Solution
If you don't offer discounts, use 'Best Product,' 'Most Bought Product,' etc., to enhance your product value. You may also choose to run sales promotions and offer discounts and other bonuses all around the year. Everybody is looking for a good bargain.
6 – Lack Of Payment Security
While operating in e-commerce, your customers can't walk into a shop, conduct a quality check and see how products are being packed and handed over. As store owners, make sure your site is as trustworthy and credible as possible.
Solution
Your store site is everything you have. Work through minor improvements like a sophisticated brand design throughout the site, contact us options, customer care number, and company address.
Include widely used payment options like net banking, e-wallets, bank transfers, etc.
Customers still fear adding credit card details while shopping online.
This could be achieved by adding social proof like customer reviews, testimonials, and product certifications.
7 – Errors, Bugs, And Crashes
Errors, bugs, and crashes create a sense of insecurity among consumers. Consumers fear they might end up paying twice or more. Crashes, especially during the payment process, could cause an increase in cart abandonment rates.
Solution
To smoothen the payment process and improve site performance to avoid crashes and significant errors. Alongside security issues, customers might be frustrated and deceived due to frequent crashes.
How Effective Is Your Site Search?
At its core, search connects people with the products they want.
In e-commerce, this means connecting shoppers with the products they're searching for and making their shopping journeys more enjoyable, natural and fulfilling.
The problem is that many site search tools don't provide a great user experience. They fail to understand the search intent and return irrelevant results, leading to lost sales and frustrated users.
A great site search tool can do much more than provide a simple list of search results or autocomplete suggestions. It should give your users a seamless shopping experience by automatically understanding their intent and desires, regardless of how they phrase their queries.
And this is exactly what Wizzy offers.
Wizzy comes with built-in NLU, which is better than the usual keyword matching — because it understands the meaning of your shopper's search query, regardless of how they phrase it. This way, it delivers relevant results even when shoppers use phrases or typos.
Wizzy displays visual search results, which means the shoppers can find the right product faster and easier.
Wizzy interprets the search intent and displays relevant results, no matter if the user types in queries with spelling or grammatical errors.
Want to take a look at how Wizzy works in real-time? Book a free demo now.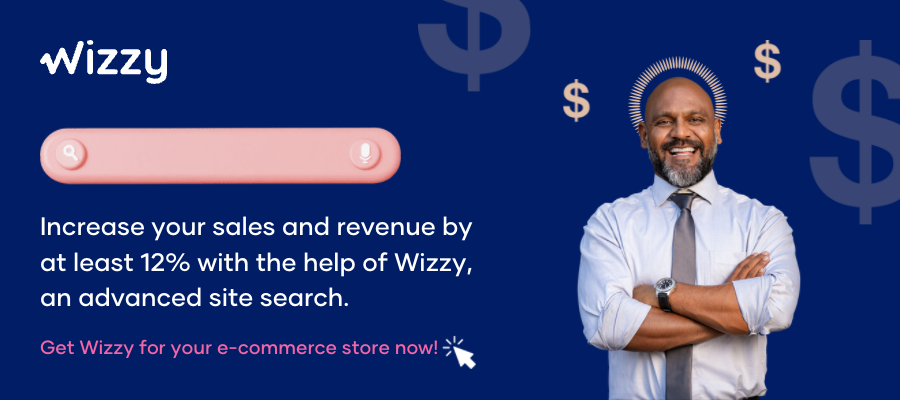 Further Reading