Index
? How much of your website traffic is being converted into sales?
? Improving site conversion is no simple task
? Your default on-site search is no good
? Shoppers demand Google or Amazon like search experience wherever they shop
? Six things to consider before choosing the right search plugin for your e-commerce site
? 1 – Search plugin should understand intent and provide relevant search results
? 2 – Search plugin should come with search analytics engine
? 3 – Search plugin should be affordable and simple to integrate
? 4 – Search plugin should be built on natural language processing
? 5 – Search plugin should be built on artificial Intelligence and machine learning
? 6 – Search plugin should enable smart merchandising
? Why Wizzy is the best on-site search plugin for e-commerce sites
Independent e-commerce stores and marketplaces primarily focus on generating brand awareness and driving traffic to the website.
How much of your website traffic is being converted into sales?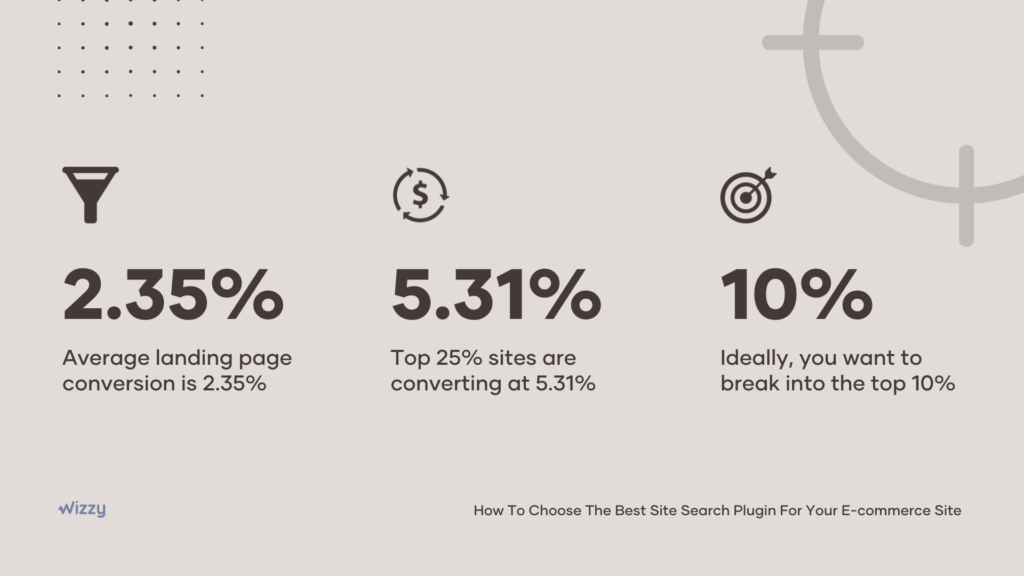 According to Wordstream, the average landing page conversion rate across industries is ~2.35%, yet the top 25% are converting at 5.31% or higher. Ideally, you want to break into the top 10%. Please go to your site analytics and look at your conversion rate over the past quarter, year, and three years. If your conversion rate is below 3% (like most e-commerce sites), this blog should help you improve your conversion rate.
Improving site conversion is no simple task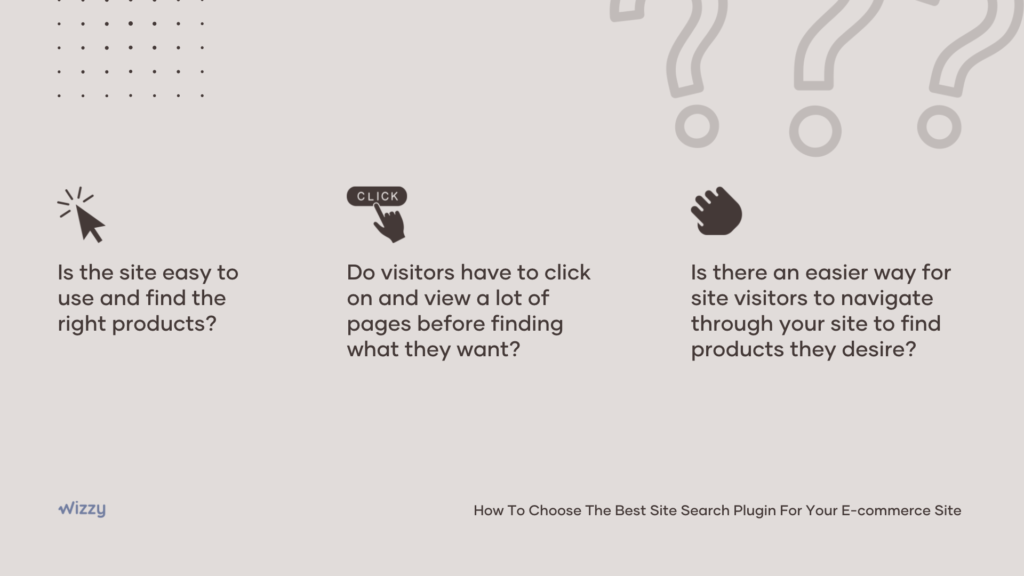 Most e-commerce businesses don't pay close attention to crafting a smooth, personalised shopping experience for site visitors. Many e-commerce business owners and managers assume that driving to the site is enough to sell a lot of products. This is so far from the truth.
A lot of things has to fall in place for a visitor to make a purchase on an e-commerce store, such as:
Is the site easy to use and find the right products?
Do visitors have to click on and view a lot of pages before finding what they want?
Is there an easier way for site visitors to navigate through the e-commerce site to find, discover, and buy products they desire?
The last question puts emphasis on the fact that shopping online need not be difficult and can be made easy with a simple, sophisticated on-site search. Search that clearly understands the product catalogues and the search intent and quickly and accurately matches intent with the right products.
Your default on-site search is no good
No matter which platform you build your e-commerce site on—WooCommerce, Magento, Shopify, or even custom-coded—the default search bar you get is mostly useless. Because you need sophisticated technology that connects that search bar with your SKUs and leverage cutting edge technologies such as artificial intelligence, machine learning, and natural language understanding to help the search bar understand search intent.

Shoppers demand Google or Amazon like search experience wherever they shop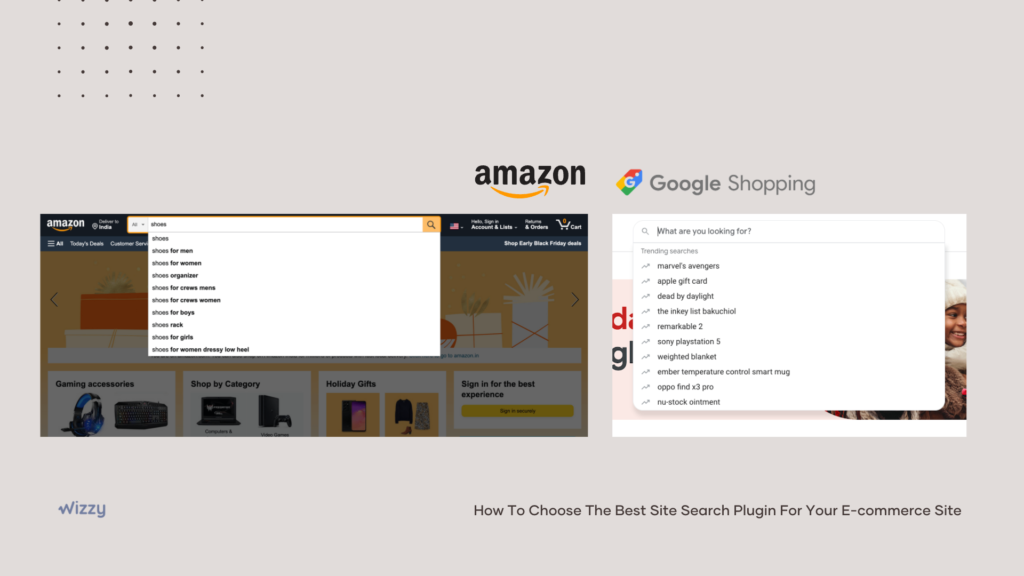 We have all been using Google search to find information and Amazon search to find and buy products. The search experience on these sites (like many other marketplaces) are so fast, accurate and they understand our search intent in a snap of a finger. Google and Amazon have huge R&D teams with deep pockets to constantly improve and further their search technology. Just read how Amazon and Google shopping search works.
Can we expect independent e-commerce stores or up and coming marketplaces to get access to cutting edge search technologies? Yes, you can. There are quite a few on-site search plugins or APIs available on e-commerce website platforms such as Magento, Shopify, WooCommerce, Wix, etc. that can be implemented on any e-commerce website and transform the site search. Wizzy.ai is one such sophisticated on-site search purpose-built for independent e-commerce stores and marketplaces.
This blog post focuses on six things you should keep in mind while choosing an on-site search plugin for your e-commerce website. Let's begin.
1 – Search plugin should understand intent and provide relevant search results
The relevancy of your search results will decide if your customer stays on your website. But these results are dependent on a lot of changing variables. The intent of the search plugin you choose should be to understand search intent and provide search results that are accurate and relevant.
Your on-site search should understand search intent, textual relevance, natural language understanding, geo-location of the users, spelling error interpretations, etc., to offer the most relevant search results.
2 – Search plugin should come with search analytics engine
While the search plugin massively improves the search experience on your site, it should have a built-in analytics engine that shows search based insights—just like how Google Analytics shows you insights about traffic, behaviour, bounce rate, etc. you want the search plugin's analytics engine to tell you:
Top search queries on your site
Top search queries that lead to a sale
Search queries that lead to higher bounce rates
New search queries visitors are typing into your search bar, and more
The deeper you go into understanding the search behaviour and its impact on your sales and revenue, the better opportunities you get to influence future site visitors.
3 – Search plugin should be affordable and simple to integrate
The search plugin that you choose should offer easy code-free integration and rollout. Some plugins will index your site the moment you enter the website's address or integrate their API to create a search engine effectively in real-time. Your site search should be customisable. Not to forget that they should be available at a price range that fits your budget.
4 – Search plugin should be built on natural language processing
Your site search plugin should effectively minimise the distractions and directly lead shoppers to products they want to buy. However, shoppers may not search with exact keywords that match your products.
Your on-site search should sync with your product catalogue and quickly throw relevant search results regardless of how or what shoppers search.
Natural language processing refers to the process where your site's search engine understands the intent behind every search term and keyword. For example, shoppers who look to buy a paddle brush might use search terms such as 'tangle free hair brushes' or 'rectangular hairbrush.' If your on-site search doesn't understand the intent behind the search query and show relevant products, you will end up disappointing your site visitors and lose potential sales.
Shoppers use their everyday language to find products, and your site search plugin should furnish relevant results even for nuanced queries that are natural to us humans but complex for search engines to understand.
5 – Search plugin should be built on artificial Intelligence and machine learning
Artificial Intelligence is the primary structure responsible for intelligent product tagging and assortment. AI and Machine Learning together account for a broad spectrum of systems, and these technologies are used to build search engines that can understand basics of human behaviour, browsing style, and shopping patterns. These data points can help curate a user-centric site search where shoppers find what they want quickly.
We need machine learning algorithms to analyse search behaviour in real-time as many data points have to be analysed and compared in quick time. They can further offer personalised recommendations based on search patterns. An advanced site search effectively employs machine learning to understand search intent, increase customer engagement, and drive conversions. It can also give you insights that have a sharper impact on your sales conversion, sales forecasting, inventory planning and management.
6 – Search plugin should enable smart merchandising
Be it sending out emails to remind your site visitors about the shopping cart they abandoned, creative placement of Call-To-Action buttons, product placements & discovery, or AI-powered visual merchandising, all of this helps push the customers down the purchase funnel.
Smart merchandising tools will help you gather insightful data that will drive informed business decision-making. By understanding real-time user insights, browsing behaviours, customer intent, and past product search histories, you can deliver a personalised shopping experience that is uniquely curated according to particular user preferences.
The search plugin you choose should allow you to create as many product categories as possible and automatically use different categories of products to search results based on seasonal demand, sales events, or your business strategy.

Why Wizzy is the best on-site search plugin for e-commerce sites
At its core, search connects people with the products they want.
In e-commerce, this means connecting shoppers with the products they're searching for and making their shopping journeys more enjoyable, natural and fulfilling.
The problem is that many site search tools don't provide a great user experience. They fail to understand the search intent and return irrelevant results, leading to lost sales and frustrated users.
A great site search tool can do much more than provide a simple list of search results or autocomplete suggestions. It should give your users a seamless shopping experience by automatically understanding their intent and desires, regardless of how they phrase their queries.
And this is exactly what Wizzy offers.
Wizzy comes with built-in NLU, which is better than the usual keyword matching — because it understands the meaning of your shopper's search query, regardless of how they phrase it. This way, it delivers relevant results even when shoppers use phrases or typos.
Wizzy displays visual search results, which means the shoppers can find the right product faster and easier.
Wizzy interprets the search intent and displays relevant results, no matter if the user types in queries with spelling or grammatical errors.
Want to take a look at how Wizzy works in real-time? Book a free demo now.