The harsh truth of life is you cannot always get what you want. This is often the situation on the web too. You just cannot find what you are looking for. For instance, people are searching for some products, pages or blogs, and they see no results. The reason could be that the site is down for maintenance, the site search is not optimized, the user has copy-paste an address that is not correct, or the information they are looking for is simply not available on the website. Whatever the reason, seeing 'no results found' message is simply disappointing for the users.
If your website contains a large amount of data, then it is suggested to integrate powerful e-commerce site search solutions that help your customers find the exact products or piece of information they are looking for. But, for some reason, if your search engine doesn't show up any suitable matches for the search query, 'no results page' quickly become a dead end and harm overall user experience. Hence, it is essential to create an aesthetic no-results page that doesn't confuse or halt the users purchase journey, but encourage them to click and head somewhere else.
So, how do you optimize your 'no results found' page that convinces your visitors to keep browsing your site and boost your e-commerce sales? Let's dig into 11 ways you can fix 'no results found' issue and make it work for your benefit.
#1 First of All, Prevent It
The best way to fix the no-results page is to prevent it from happening it at all. Enforce deeper indexation of your website keywords and content. Create an extended list of vocabulary and synonyms that display at least a few matches of the search query. Integrate intelligent search extension from Wizzy that understands natural language, searches through synonyms and offers an auto-complete feature to provide shoppers with other product suggestions if the particular product the user is searching for is not available. Showing something is always better than showing nothing.
#2 Accept it that you have no results to show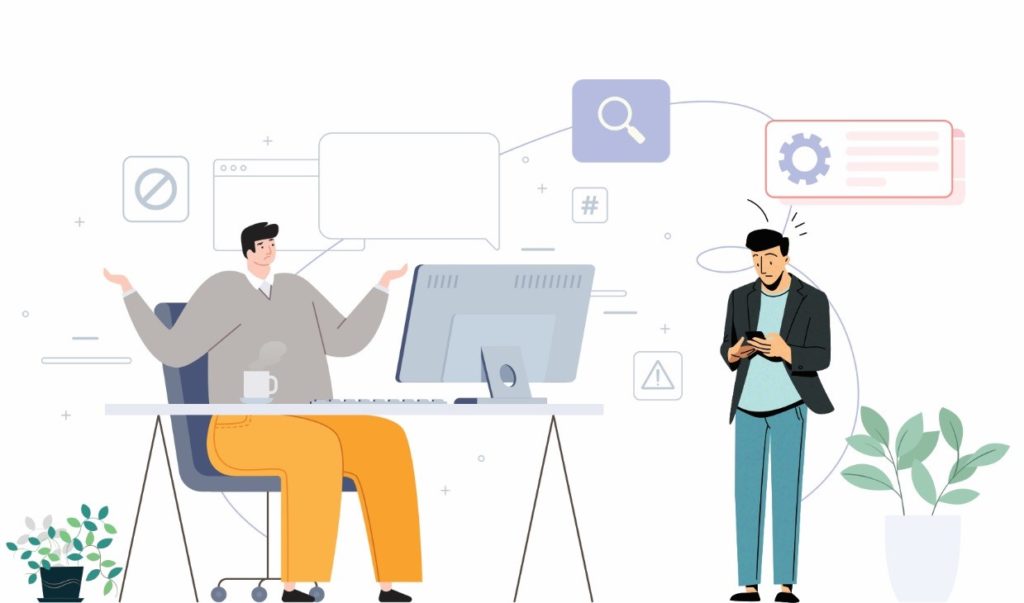 It is very common for users to enter search queries that don't match your products. Don't hide it. Instead, let them know that you have no products to show that match their search query. Not showing any proper message keeps your users guessing whether the page has been loaded or it is still loading. Hence, it is essential to show the status of your system in order to let users decide whether they should wait for the results or leave.
#3 Suggest popular categories and best-selling products
The users may search something that you don't have in stock. Use this as an opportunity to display what you have in stock. This could be some popular categories, best-selling products or your signature items. Display a product catalog that shows similar products to the search query, and offer them other options to complete their purchase. However, make sure your search bar always appears in the center and big enough that enables them to enter a new search and head over to other pages. The end goal is to provide users with an alternate way out rather than leaving them stuck on the dead end.
#4 Take all the blame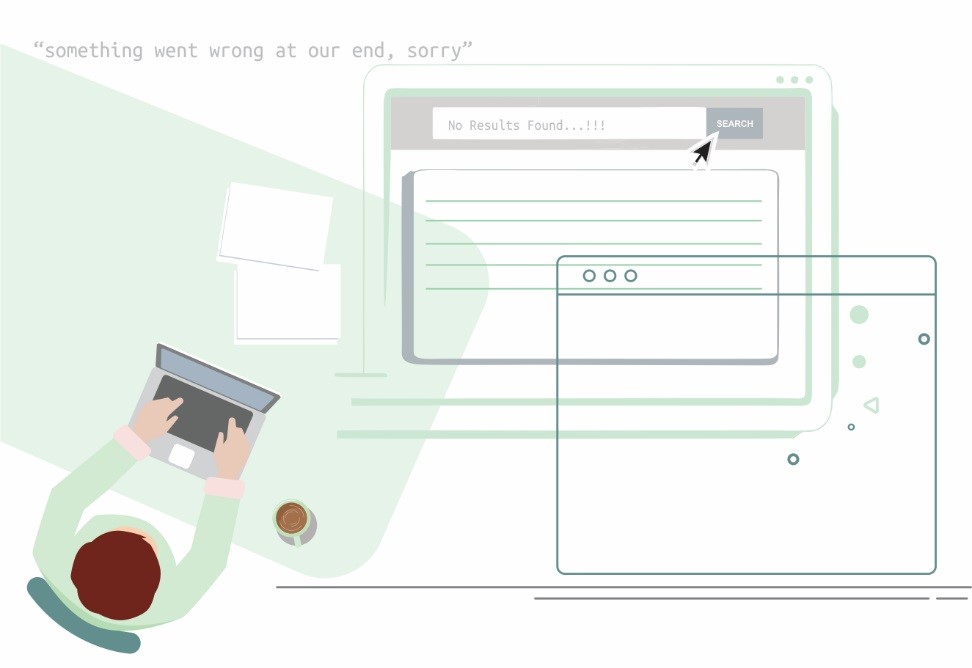 Reaching 'no results' page is the last thing you would want to happen to your visitors. If your users are not able to find the products they are looking, it is probably your fault. So, apologize to your visitors for not coming up with the relevant results. Displaying messages like "sorry, we are unable to find what you are looking for" or "something went wrong at our end, sorry" can help reduce user frustration and make them feel better. Saying sorry also makes them feel that you really care about them and you are willing to deliver relevant results. Always take the blame, even if it is not your mistake.
#5 Offer personalized recommendations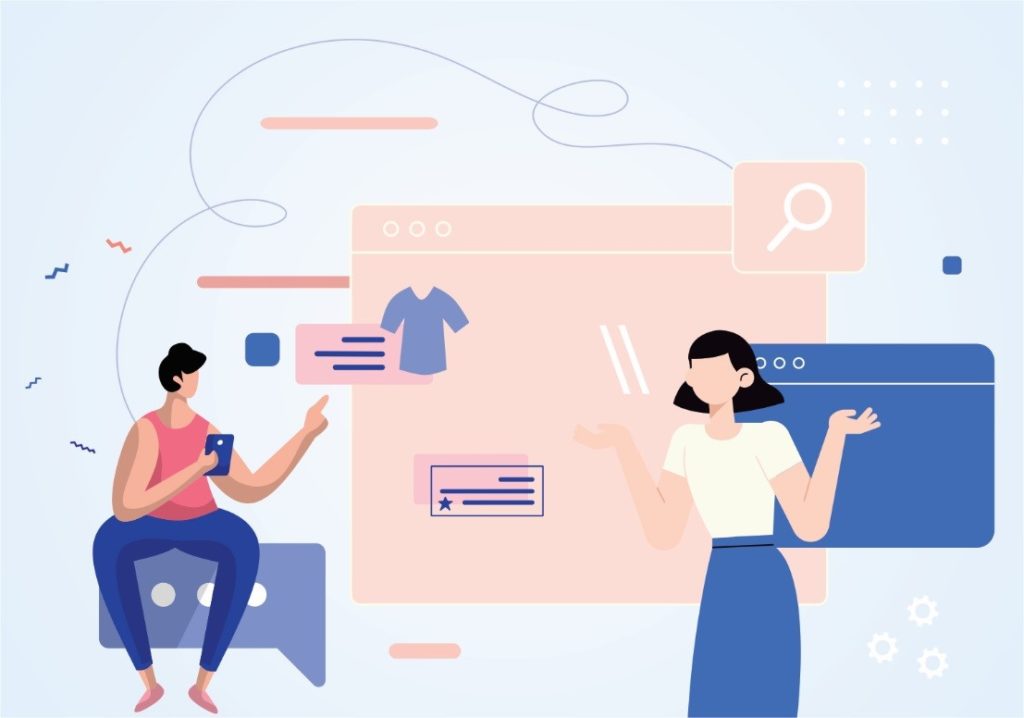 Offering personalized 'no results' experience based on the users past purchases and shopping behavior can be a great way to encourage them to make a purchase of the alternate products they may be interested in. For instance, if a user is looking for a white shirt, but it is not available or has already been sold out, then you may recommend red or other color shirts that user had shown interest earlier. While these products might not be exactly what they were searching for, this could help you reduce the user bounce-off rate.
#6 Allow users to sign up for future alerts
Often it happens that products are unavailable for a very shout time and they are back in stock as the business owner updates its inventory. Consider a fashion store where the search for black shoes return no results one day and multiple results the very next day as the stock is updated. Allowing users to sign up for alerts on the no-results page when the products are back in stock will give you a double benefit. Not only the users will come back to complete their purchase, but they will also leave contact information that may prove to be critical for marketing campaigns.
#7 Don't mock your visitors
Many brands use humorous language or images to alleviate tension and express empathy. However, be extremely careful while using the humor because it can easily be misunderstood. Since the interaction is happening online, you cannot use body language or intonation to express nuances of the tone. Your users may not understand whether you are laughing at them or with them. Moreover, they may not like being mocked when they are already exhausted. Therefore, when using humor use only harmless words that evoke only fun and not insults.
#8 Allow content search as well
Search isn't always about products, but sometimes visitors also use the search box to find specific content of the website, such as shipping costs or return policy. Without implementing content search in your search engine, users could easily land on no-results page. That is because they are looking for some content, and not products. Hence, it is advisable that you integrate content search, which allows users to search through your blogs, terms and conditions, and refund policy. For instance, if a user searches for jewelry that you don't stock, display the content from the blog that provides information about jewelry. This will reduce the chances of users encountering the 'no results found' page.
#9 Use simple product names and relevant synonyms
Some websites use technical words or jargon-filled names that require shoppers to have a sound knowledge about the industry. Keep the focus user-centric, and use the terms that people are the most familiar with. Also, site visitors use different terms to search for the same item. For example, dresses and gowns, t-shirts and tee shirts and trousers and pants; these terms mean the same. Add all these common words in your search index in order to make sure your search always return results even if the search query doesn't exactly matches the product names. The end result will be the list of refined results that are highly relevant to the user search preferences.
#10 Implement auto-complete and auto-spell correction
One of the best ways to help customers pass through no-results page is by offering on-site spell checker. This tool is a must-have for businesses, such as pharmaceutical and online chemists where technical product names are critical. If the user has entered incorrect spelling, you can ask them whether they mean 'the exact name'. You can go a step further by integrating search extension that has a smart autocomplete feature so that it will automatically start suggesting the right search phrases as the user types in the search bar.
#11 Show multiple contact information
Not everyone on the internet is a search expert. You will always find some unusual and unexpected terms being searched. This doesn't mean that you cannot help them out. Provide them assistance through multiple points of communication, such as phone, email or through live chat. You can also include links to your contact page or social media accounts in case they land on the no-results page. This information also helps users to get in touch if they want to find something else. This may seem obvious, but just letting your users know that someone is always available to help is a great step towards gaining their trust.
Conclusion
No matter what happens, never let your customers go to a dead end. Inform them that the product or information they are looking for might not be available at the moment, but guide them on how to complete the purchase with another alternative. Always provide them with a way to continue with the shopping journey.
Following the above-mentioned guidelines, you can easily turn your no-results page into a successful sale. Offering assistance, communicating openly, understanding your users' intention and deploying the right tools, you can easily deal with no-results page and your customers are likely to find what they are looking for.