Index
? What is FOMO in E-Commerce?
? General FOMO Stats
? FOMO in Millennials
? Best Examples of Brands Using FOMO
? 8 FOMO Tactics E-Commerce Sites Should Implement
1 – Use Scarcity to Create Urgency
2 – Use Social Proof to Boost Conversions
3 – Use Exclusive Offers and Events to Create FOMO
4 – Use Limited-Time Offers
5 – Pre-Launch Your Products with a Discount
6 – Build Up FOMO Through Regular Communication
7 – Leverage Exit Pop-Ups to Create FOMO
8 – Remind Customers About Missed Opportunities
? Understand Your Audience with Wizzy to Create FOMO
FOMO, or fear of missing out, is a powerful emotion. It's the feeling you get when you see your friends posting about their exciting lives on social media and you're stuck at home playing video games.
It's also a very real emotion for e-commerce brands trying to get their products into customers' hands.
You want to be the brand everyone wants to buy from, but how can you do that when your competitors are already there?
There are many different ways to use FOMO in e-commerce marketing. In this blog, we'll look at everything you need to know about creating FOMO and increasing your sales.
What is FOMO in E-Commerce?
FOMO is everywhere — from social media to news reports and even our personal lives.
It's one of the most powerful psychological impulses we have as humans. It's an emotion that compels us to take action when we believe we're missing out on something. FOMO can inspire us to make quick decisions, change our minds and even break the rules.
It's no wonder that marketers have started to use FOMO in e-commerce marketing.
The main concept behind using FOMO is that e-commerce sites need to create a sense of urgency in their marketing campaigns.
As consumers, we are constantly bombarded with offers and deals — many of which we miss out on because we simply don't have the time to investigate each one. But when a site makes it easy for us to act on these items, it's a win-win for both parties. The consumer gets what they want and the retailer gains more business.

Stats About FOMO in E-Commerce
General FOMO Stats
● According to TrustPulse, 60% of people buy things they may or may not need due to FOMO, mostly in 24 hours.
● 56% of people who experience FOMO are often aged between 18 to 30.
● 40% of people spend money on a thing at least once per year to post it on social media.
● 41% of people say 'yes' to spending on things with their friends because they worry about getting invited in the future.
FOMO in Millennials
● According to research by Credit Karma, 40% of millennials spend more than they could afford just to keep up with their friends.
● And 27% are uncomfortable saying 'no' when their friends suggest an activity they can't afford.
● Four of 10 millennials admit to FOMO overspending to keep up with their friends' travel plans.
● Interestingly, around two-thirds of the millennials who overspend on things start experiencing remorse and regret later.
● According to Eventbrite, almost 69% of millennials experience FOMO, propelling them to show up, share and engage.
Best Examples of Brands Using FOMO
Body Candy – FOMO Through Limited-Time Discounts
Body Candy combines the two best marketing tactics — coupons + countdown timers. With a whopping 25% off coupon code exclusively available for only 24 hours, Body Candy has nailed the FOMO.
The team has let the FOMO speak and kept the rest of the email quite simple with direct links to their best sellers for quick shopping.
Heinz – FOMO Through Exclusivity
Hein launched an exclusive, limited-edited offer for their tomato ketchup that will only be revealed when the users 'Like' their page.
This combination of intrigue along with exclusivity is the absolute example of appealing to the FOMO side of the people — and getting on the offer before anyone else.
Too Faced – FOMO Through User-Generated Content
Too Faced, one of the top cosmetic brands globally, has been leveraging user-generated content to create FOMO. As you scroll through their feed, you can see various tutorials and getting-ready videos from influencers around the world using multiple products of Too Faced.
And just like that, the brand creates FOMO by leveraging social proof to increase the likelihood of purchase.
Rue La La – Straight & Simple FOMO
Sometimes addressing the FOMO point-blank is often the best strategy. And Rue La La did just that with this straightforward message through their marketing mailers.
With their simple and honest messaging, they directly create FOMO — and position themselves in such a way that their subsequent emails get good open rates and engagement.

8 FOMO Tactics E-Commerce Sites Should Implement
FOMO is a highly effective marketing tactic that many e-commerce sites use to drive sales.
FOMO works because it taps into consumer psychology and makes them feel like they will miss out on something if they don't buy now.
The key to using FOMO in your e-commerce marketing strategy is not to overuse it or abuse it. You want your customers to feel like they are getting a bargain or a special deal and not regret their purchase later.
That said, here are eight tactics you can use to leverage FOMO in your e-commerce marketing:
1. Use Scarcity to Create Urgency
Scarcity works because we tend to fear losing something more than we value what the thing is worth in itself. This is why people spend thousands of dollars on lottery tickets and why fast-food restaurants offer discounts for large quantities. This is one of the most common ways for brands to use FOMO as a selling tool.
It's also why Amazon has a limited supply of products on backorder — even though buyers can't get their hands on them right away, they want to be sure they'll get them eventually, so they don't miss out on the deal.
If you have an item on sale, try including an expiration date or a limited quantity message with the product so that customers know they need to act quickly before it's gone forever (or before they miss out on the deal).
2. Use Social Proof to Boost Conversions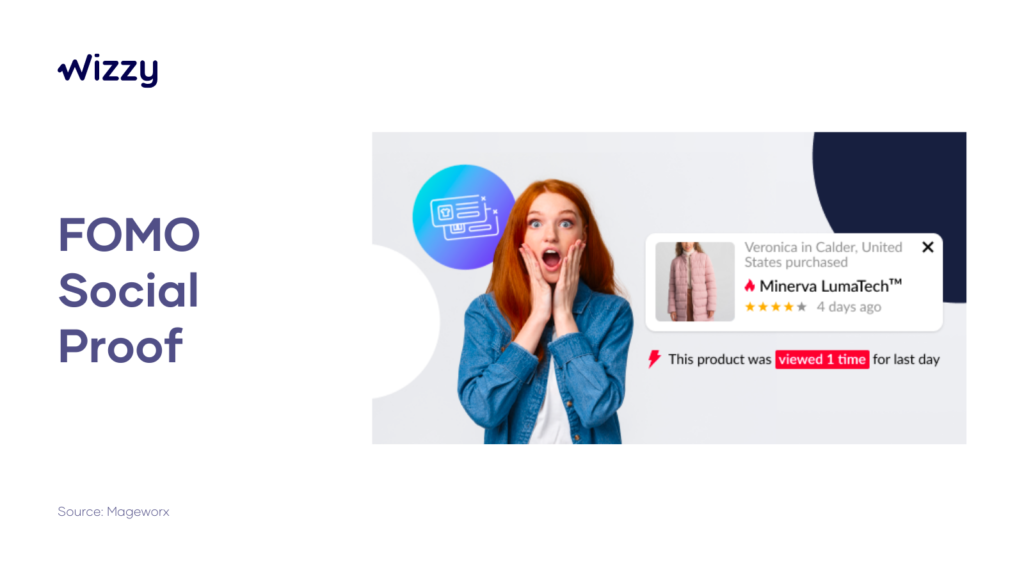 People often don't want to miss out on something that their friends have bought. So when you leverage the social proof and show how many people are taking advantage of your products and offers, you can further convince them to make a purchase.
The best way to use this principle online is by showing how many other people have purchased your product — whether by displaying testimonials or simply showing an increasing number of orders as time goes by. You can also add user-generated content to your social media and websites to reinforce the need for your product.
3. Use Exclusive Offers and Events to Create FOMO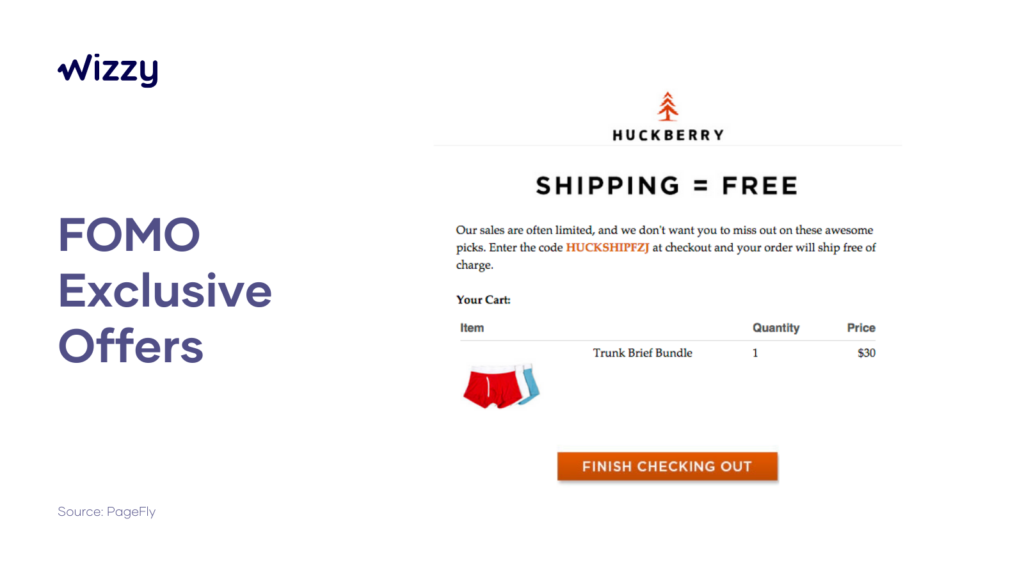 Consider creating an exclusive offer for your customers that will only be available for a limited time or only for a particular set of customers — this will encourage them to buy now before someone else does.
You can also hold special events such as online sales, giveaways and contests that allow customers to win prizes. These events should encourage visitors to take action now while they still have a chance to win something exciting!
4. Use Limited-Time Offers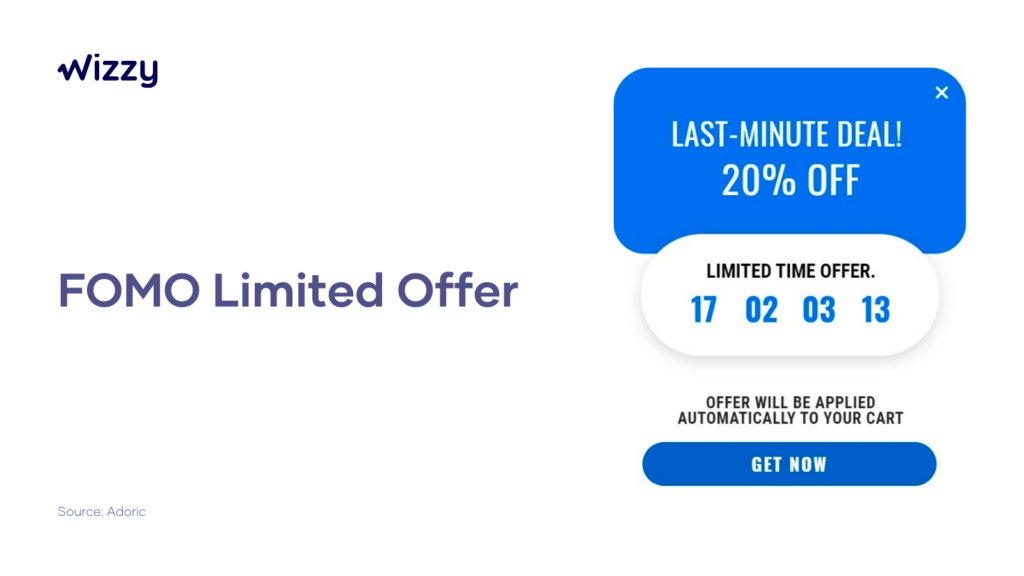 Limited-time offers are one of the most effective ways to leverage FOMO in e-commerce marketing. They can be used as part of a larger strategy or as standalone promotions, but either way, they help create urgency around your product or service for your customers.
To create a limited-time offer campaign, first identify when you think would be the best time for your offer to begin and end — this could be based on seasonal trends or temporary discounts.
Once you know when you want the promotion to run, set up landing pages with countdown timers so that visitors know exactly how much time they have left before your product goes away forever!
5. Pre-Launch Your Products with a Discount
The key to using FOMO effectively is to give people something before others can lay their hands on it. This doesn't mean offering items that aren't available anywhere else — it means giving them access before anyone else does.
If you're launching a new product line or redesigning an existing one, give customers a sneak peek at what's coming down the pipeline by releasing teasers through social media and email campaigns. You want them excited about what's coming next and then announce your pre-launch discounts — available only for the first few customers.
People love exclusivity and allowing them to lay their hands on a product before the launch is a great motive to get your initial sales going.
6. Build Up FOMO Through Regular Communication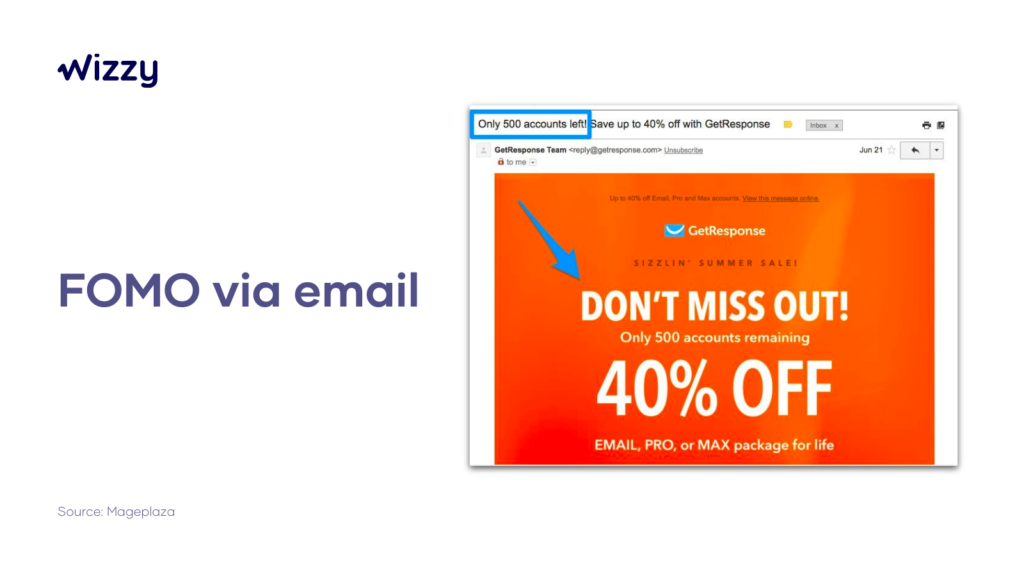 E-commerce sites have multiple ways to communicate with their customers — through newsletters, social media and email marketing campaigns — which means they can easily build up FOMO among their visitors through consistent messaging. This could include sending reminders about upcoming sales or limited-time offers so visitors don't forget about them until it's too late.
You should also send regular updates about new products or content to avoid losing your audience's attention over time.
If you want your audience to develop a sense of urgency around purchasing from your site, it's important that you stay in touch with them regularly to know what's happening at all times.
7. Leverage Exit Pop-Ups to Create FOMO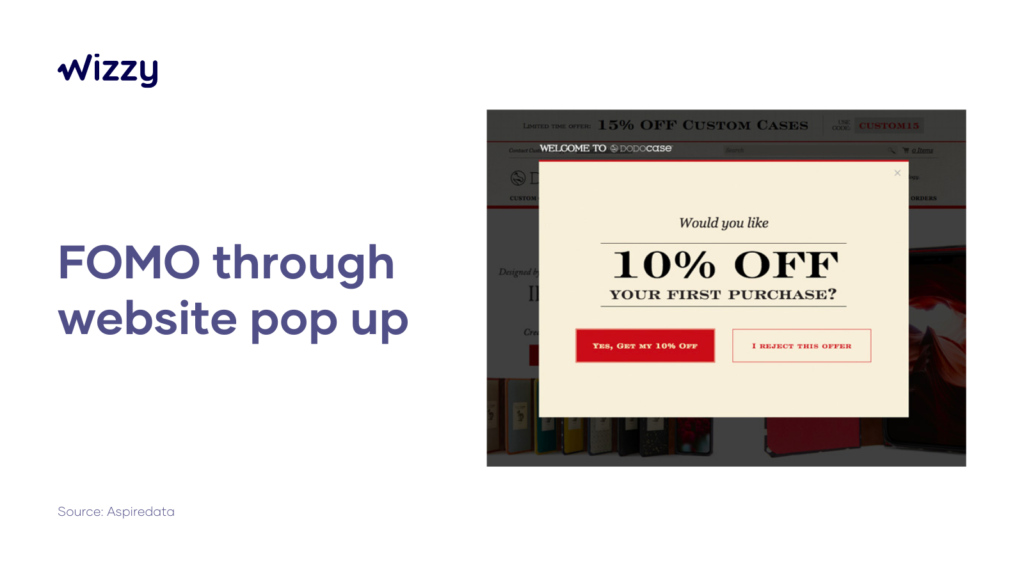 A lot of people will browse an e-commerce store without buying anything, which can lead to losing potential customers. You can curb this behaviour by leveraging exit pop-ups that offer special discounts or other incentives for returning visitors.
You can design these pop-ups to generate FOMO by highlighting what people stand to lose if they don't make purchases on your site, like including social proof, testimonials, or user-generated content.
8. Remind Customers About Missed Opportunities
Sometimes FOMO is not about creating new opportunities for customers; it's about reminding them about missed opportunities. This would create long-term FOMO in the people's minds so that the next time you introduce such an offer or a discount, they can't wait to snatch it up!
For example, if you run an online clothing store and someone visits your site but doesn't make a purchase, you could show them what they missed by sending customer images and testimonials.
When you position your brand as something a user has missed, they would now be alert enough to make the most of the future opportunities.
Understand Your Audience with Wizzy to Create FOMO
To create FOMO among your audience, you need to first understand the choices of the customers — what they search for, what they look at and how they behave.
This is where a smart search feature like Wizzy comes in. With real-time analytics based on the user's search behaviour and intent-based search features, you can better understand what your customers want and pick products to market with FOMO.Want to watch Wizzy live in action? Schedule a free demo now.