When it comes to e-commerce store optimization, everyone knows that keywords are essential.
But what about synonyms? Are they just as important as keywords?
Well, the short answer is 'yes.'
Lack of optimization for synonyms is often a direct deal-breaker for e-commerce sites. Many online stores lose customers by neglecting to include the synonyms in their onsite searches.
So in this blog, we'll look at why synonyms matter and how to use them.
Index
? What Are Synonyms and Why Are They Important?
? Modern Day Search Behaviour on Shopping Sites
? Types of Synonyms in Search and How to Manage Them
? A Few Stores That Use Synonyms
? Benefits of Accommodating Synonymous Search Terms on Your E-Commerce Site
? Why Search Analytics Is Important
? How to Generate Product Synonyms
? How to Use Synonyms
What Are Synonyms and Why Are They Important?
Synonyms are words that have the same or similar meanings. They can be used as alternative words for a single word or describe a particular idea. Synonyms can make your onsite search optimization process more streamlined, as they broaden your options for content and keywords when you're optimizing a page.
Synonyms are valuable for onsite search because they help users find the information they are looking for more easily. By providing a variety of terms that all mean the same thing, you can make it easier for people to find what they need. This can be especially helpful if your site contains a lot of technical jargon or industry-specific language or if your products have a lot of names and terms.
It's important to use synonymous words in your onsite search terms because they allow you to expand your keyword list with related words and phrases, increasing the number of people who see your products or your search engine results.
Modern Day Search Behaviour on Shopping Sites
Nowadays, shoppers don't bother about the product's name when searching on a site. They use synonymous terms while shopping online — the terms that come to their mind naturally when thinking about a product and want the site search to match their intent.
For example, if a shopper is looking for a pair of pants, they might actually search for 'trousers' or 'jeans'. If they are looking for running shoes or athletic shoes, they may type in a generic term like 'sneakers.' Or when a user searches for a 'long gown,' they might mean a 'flowing dress.'
So by including a variety of terms that all mean the same thing, you can make it easier for shoppers to find what they need on your site. It will also help improve the user experience and make it easier for shoppers to find what they need.
Types of Synonyms in Search and How to Manage Them
Including synonyms in your onsite searches simply means that you're accommodating your site for people from different walks of life — with different colloquial and dialects. But there are different stages of looking at the synonyms for your online store: starting with the keywords optimized for individual products to the categories and the generic terms used to describe products.
1 – Keyword-specific Synonyms
It is the most common type of synonym and can be used at any stage of the onsite search. It's often linked to the primary intent of the shopper's query. The more searches for the keyword-specific synonym occur, the more likely people searching for one term will also search for its counterpart because they're interchangeable in meaning.
For example, if you sell groceries, people searching for 'coriander' may also mean 'cilantro'. So such keyword-specific synonyms would make a lot of difference if they aren't included.
2 – Category Synonyms
These phrases describe the type of product category or service you offer but refer to it by a name different from the one you've set.
For example, if you sell men's shoes, you may have a category called 'footwear', but it can be considered a category-specific synonym with 'shoes' because they have similar meanings.
3 – Generic Synonyms
These are phrases that describe your business in a more natural-sounding language. This type of synonym refers to generic words that are not related to any product category but can be used to describe the products you sell.
For example, on an apparel e-commerce site, you may be very specific with the colors and mention 'scarlet sweater' or 'vermillion jeans.' But a user searching for those particular colors may instead type in 'red sweaters'. So using these generic synonyms will improve the relevance of your search results.
4 – Misspelled Words
There can be a few difficult words that people tend to misspell, like ceiling lamps, laundry bags or leggings, or even brand names like 'Kérastase.' When your onsite search feature isn't optimized to recognize such spelling errors, it can prove fatal!
You could lose many potential customers interested in your products but didn't convert because of a rigid onsite search engine.
5 – Plurals
While this isn't technically a synonym, we should also consider the plural forms of the words and include them in the list of synonyms.
As a product name, you'll only mention it with singular nouns, like 'USB cable' or 'hard disk.' But a user who wants to look at multiple options may naturally search plurals like 'USB cables' or 'hard drives.' So you need to optimize your product pages with the plural keywords too.
A Few Stores That Use Synonyms
John Lewis
There are several ambiguities when considering the synonyms for a clothing store. But John Lewis has nailed them all.
When we search for 'beachwear,' you get a list of products of bikini tops and bottoms — nothing with the exact term 'beachwear' but results that are completely relevant to the search query.
Instacart
Instacart has similarly optimized its store for common words, synonyms and misspellings. When we search for 'herbs,' the list brings up the different seasoning mix, basil and cinnamon all of which come under the category herbs.
And even when we misspelled cilantro as 'cliantro,' the site promptly displayed the cilantro-related products.
Selfridges
Selfridges is a holistic lifestyle brand with everything from clothes to makeup and wine. This online store has been optimized for answering solution-based queries like dark spot removal, pigmentation solution, etc.
In the above example, you can see that when we type in a problem-oriented search term 'dark spot removal,' the site shows up products that can help the user to battle this problem — a combination of results including serum, solution, cream and gel, all of which are focussed to solve the dark spot problem.
Such a targeted search result that gives a direct answer to the shopper's problem can also help in increasing conversions.
Benefits of Accommodating Synonymous Search Terms on Your E-Commerce Site
1 – Improve User Experience
Synonyms can also improve your onsite search results. Using synonyms can reduce the amount of time your visitors spend looking for items with specific terms. Additionally, by optimizing your search terms, you can make sure that you are presenting the most relevant information to your shoppers.
2 – Optimize for Search Engines
Search engines can have a hard time understanding your site's content. They scan your pages with an algorithm that looks for keywords and phrases related to the topic. At times, it can be difficult for search engines to pick up on everything you want them to find. That's why it's essential to include synonymous search terms on your site.
By including various terms that mean the same thing, you can make your site more likely to show up in search results. This can help you attract more visitors to your site and improve your chances of converting them into customers or clients.
3 – Better Customer Retention
When customers search for synonyms, they're looking for something specific. But when your product pages aren't optimized for the alternate terms shoppers often use, it can mislead them to think you don't have such a product. This is why it's of utmost importance to optimize for synonymous search queries.
Even when you don't have the exact product per se, you can increase your chances of converting them to buy an alternative or a similar product that's close to their original choice.
Why Search Analytics Is Important
Search analytics is the process of analyzing search queries, clicks and conversions to determine what people are looking for, what they like and where they go. It has become a powerful tool for e-commerce sites in helping them understand their customers better and deliver the right content at the right time. It is vital for any business to understand how people search for information about their products and services.
Search analytics can help you find out search terms people use on your site.
Let's say you sell several products under the category 'mobile phone covers.' Many people may use different phrases like 'phone cases,' smartphone covers', or 'cell phone covers.' So, if you want to target all variations of search queries, you must optimize your product pages with keywords related to these synonyms. Having this kind of insight can help you match search intent and improve your conversion rate.
Search analytics is also useful for finding out which search results are relevant to the query based on the clicks and conversions. This helps decide which pages are more relevant and even understand the user intent behind complex search queries.
A bespoke search analytics dashboard can give you insights on:
Which are your most popular search queries?
Which search queries lead to sales?
Which search queries don't lead to sales?
What new keywords do your shoppers use to find products on your site?
And so many more questions.
How to Generate Product Synonyms
There are several ways to discover and generate synonymous keywords for your products.
One way is by using any online database and including them with your search feature. While this can simplify your process, there can be difficulties in picking out the domain-specific keywords or some keywords that could mislead users to a different product than the one they intended.
Another simple way to find the product synonyms is through search analytics.
You can look at the search terms that aren't a direct match for any of your products and look at the search results.
● If your onsite search shows no results, it's high time to find out relevant matches for the term and add them as synonyms.
● If there are a few synonymous search results, you can monitor the clicks and conversions to understand if that's the product they wanted. This will help you determine if you must optimize for more synonymous search terms.
Once you have the list of synonyms, you can easily add them to your onsite search tool.
How to Use Synonyms
Here are two main ways to integrate synonyms with your onsite search engines:
1 – Manual Addition
You can do this by adding each word individually or selecting multiple items and adding them all at once. This is helpful if you've already added several synonymous words in bulk and wish to add more of the same type of query.
When doing this, be sure to check each entry carefully before saving it so that you don't make any accidental duplicates or misspellings.
2 – Automated Addition
Manual synonym additions are simple enough, but they require a lot of time and effort from an experienced search engineer. It's best to automate this process as much as possible. Automated tools use machine learning algorithms to find related terms based on their frequency of usage within your system directory and other sources to refine the search results.
This is especially useful when you have a huge list of products on your e-store, as you'll need to include multiple synonyms for each of the products. For such e-commerce stores, it can make manual addition a tedious task — not to mention the importance of being accurate when manually adding them.
This is when a smart site search technology like Wizzy can save your day.
Wizzy learns from your search results and collates them with synonyms of your products, be it conversational or linguistic. Wizzy is highly intelligent enough to understand even complicated search terms with synonyms, understand the search intent and present the right search results.
Apart from this, Wizzy's search tool understands the natural language, providing problem-specific search results relevant to the shoppers queries.Want to see how Wizzy can optimise and transform your onsite search? Book a demo now.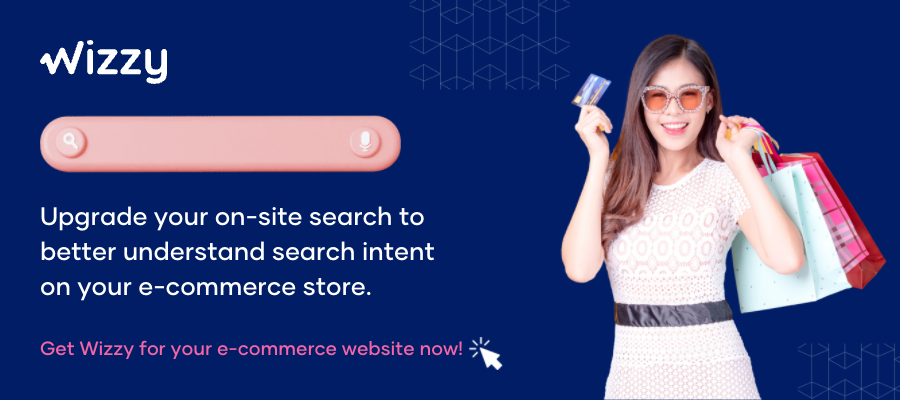 Further Reading