E-commerce industry has been growing at a rapid pace for the past few years. In this advanced tech world, planning your success without having a presence on the internet is the biggest mistake you can make. Studies have shown now and then that customers love to make purchases online rather than visiting physical stores for a number of reasons. Therefore, if you are thinking of becoming a successful e-commerce owner and boost e-commerce sales, you shouldn't give a second thought about having an e-commerce store.
When it comes to e-commerce, both retailers and shoppers prefer a reliable e-commerce platform that satisfies their needs. Among all the platforms available out there, Magento has emerged as one of the favorite platforms for e-commerce players globally. A recent version of Magento, Magento 2, offers a plethora of benefits to both merchants as well as customers, revolutionizing the e-commerce experience while keeping up with the tech advances occurring in the e-commerce industry. Let's see what makes Magento a still preferred platform of choice in 2020-21.
From the Retailers' Point of View
It is quite important for the retailers to understand the abilities and efficiency of the framework they are planning to build their e-commerce store on. Choosing the right platform can really make or break the sales. Here are a few features of Magento that can be useful for retailers.
#1 Open source platform
The first and main reason why Magento acquired so many admirers around the world is that it is open source. Open-source means you can have full control over customization to build an attractive storefront. Merchants don't have to wait for new features to release out. They can simply upgrade their site by integrating plenty of extensions, templates, widgets, etc., that are offered by Magento. Furthermore, the Magento Community Edition is absolutely free, which proves as a boon for any start-up.
#2 Optimized for mobile devices
Nearly every person on this earth owns a smartphone and has access to the internet. Hence, it becomes imperative to cater the demands of the mobile users who are using smartphones to shop on the go. Magento 2 offers mobile functionalities right out of the box. It provides countless responsive themes to keep you ahead of your competitors. You don't need to spend extra money to develop mobile-optimized store design. You can easily drag and drop, zoom in and zoom out and add other gesture controls, image scaling, and AV features to your site using Magento.
#3 Easy to manage
Being an e-commerce owner, you always think of reducing manpower and cost overheads. Magento 2 is far better when it comes to learning curve and store management. It offers user-friendly admin panel that allows you to manage your entire e-commerce store all by yourself. Without seeking the help of developers, you can make minor changes by referring to the user guide. Moreover, setting up the store is pretty quick and easy. You can add products to your store with an easy-to-use product creation tool and the drag and drop functionality can save you ample time to modify the store's appearance.
#4 Support for a vast range of plugins and extensions
Magento offers hundreds of plugins and extensions available through the Magento marketplace. These Magento extensions and plugins empower shop owners to create a custom-made site. They also save a huge amount of time and money that e-commerce owners would spend developing from the scratch. Some common Magento 2 must have extensions include for payment gateway, shipping system and analytics tool. Moreover, many third-party companies, like Wizzy offer Magento personalization extensions that could further bring more conversions.
#5 SEO-friendly
As you circulate flyers to make people know about your business, the same way SEO is essential to make your brand visible to the people on the internet. Being an SEO-friendly platform, Magento allows you to add titles, meta descriptions, keywords, sitemap and show URL suggestions, which can help you in optimizing your e-commerce store for the search engines. It is further equipped with an inbuilt digital marketing assistant that allows you to manage traffic and align your business strategies. All SEO optimization features offered by Magento will help your store get the attention it deserves.
#6 Run multiple stores
If are looking to sell to the audience in different countries, speaking different languages and using different currencies, Magento 2 can make omnichannel selling a breeze for you. With Magento, you can take your business to a global level by creating separate store views for different regions. It allows you to efficiently manage multiple stores, inventories, languages and currencies directly from the admin dashboard. Each store can have a different domain name, products, information and configuration. Thus, this feature of Magento is extremely useful as it saves a lot of time and efforts while managing multiple stores.
#7 Improved security
Security is one of the most important concerns for e-commerce owners. If you are accepting payments online, you must adhere to PCI standards of data security and security. You are responsible for securing your own and customer data, and if you don't have a team of professional developers to help you established the right system, your online store can be vulnerable to data hack and theft. Therefore, Magento is the preferred choice if you are looking for all-in-one solution for PCI compliance and data security. Your website will run on powerful and encrypted data servers without requiring you to go through the hassle of setting up PCI compliant database.
From the User's Point of View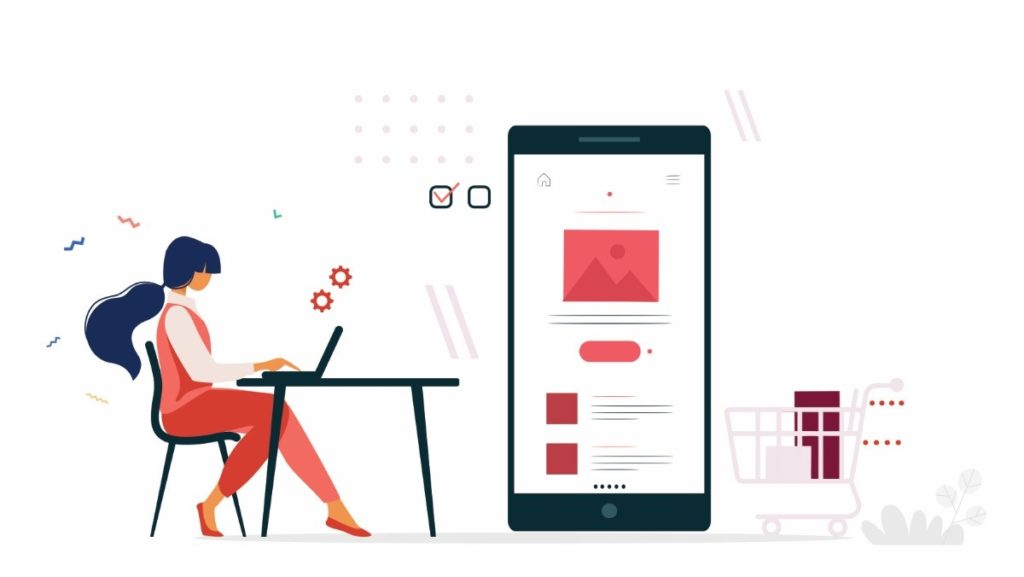 Users are least concerned about what platform or technology is used behind the creation of the e-commerce store they are purchasing from. But, for the sake of understanding how your customers can benefit from your personalized Magento store, here are a few features of Magento that can make a difference to your customers.
#1 Easy checkout process
Having a streamlined checkout process is very crucial in an e-commerce store for a high conversion rate. Customers today have a little time and they all want to complete the checkout process as quickly as possible. If your checkout process is not streamlined, your users may abandon your site without making the purchase. Magento 2 comes with an efficient checkout process that is loaded with plenty of features to deliver smooth and seamless user experience. With enhanced flexibility, security and shopping experience, users can complete their purchases in lesser steps.
#2 Advanced site search
The first thing that nearly every customer do as soon as they visit an e-commerce site is to use the search box. They extensively use the site search in order to find the products they are looking for. This makes necessary for store owners to have a robust and reliable site search that return relevant results. Magento out of the box comes with powerful search engine which makes easy for customers to discover your products regardless of the size of your store. Moreover, there are also many Magento search extensions available in the market which can be integrated into your online store to extend the capabilities of your site search.
#3 Fast loading speed
There is no point of having a website that works like a snail. Just like the layout and design of the website, the speed also plays a vital role in generating more sales. According to a survey, almost 57% of customers leave the website if it takes more than 3 seconds to load. When using Magento, you are automatically entitled to super fast performance. The more the speed, the more the customer retention rate. Based on several tests, Magento 2 running websites are capable of handling more than 1 million orders per day. That is because the cloud servers are designed for Magento installations. Moreover, Magento also gives you access to performance monitoring tools, so you can assess its speed and fine tune it.
Conclusion
Magento continues to receive a lot of admiration from merchants as it is considered one of the best e-commerce platforms in the market. The wide range of features and functionalities offered by Magento will definitely boost up your e-commerce sales and give you a competitive advantage. Additionally, Magento offers a huge community support, where thousands of developers and designers collaborate to build plugins and extensions with an aim to make Magento better every day. Meaning, you will always have access to the latest tools and technologies even if you are not a developer.