The number of mobile phone users is growing every passing day. Any company that wishes to engage more customers and generate more sales should embrace mobile apps as an essential tool to deliver great user experience. In order to meet modern customer demands, e-commerce owners must provide easy, fast and smooth mobile experience.
In the last few years, there has been a growing support for PAWs. It combines the accessibility of the desktop version with functionality of the native apps. Although iOS and Android native apps are primarily known for its exceptional features and excellent performance, yet more and more businesses are turning towards PWAs. Given that PWAs are faster and cheaper to build, are native apps still worth your attention?
In this post, we will compare both types based on key aspects, and share the insights that can help you choose the right type for your business.
Progressive Web Apps – What is it?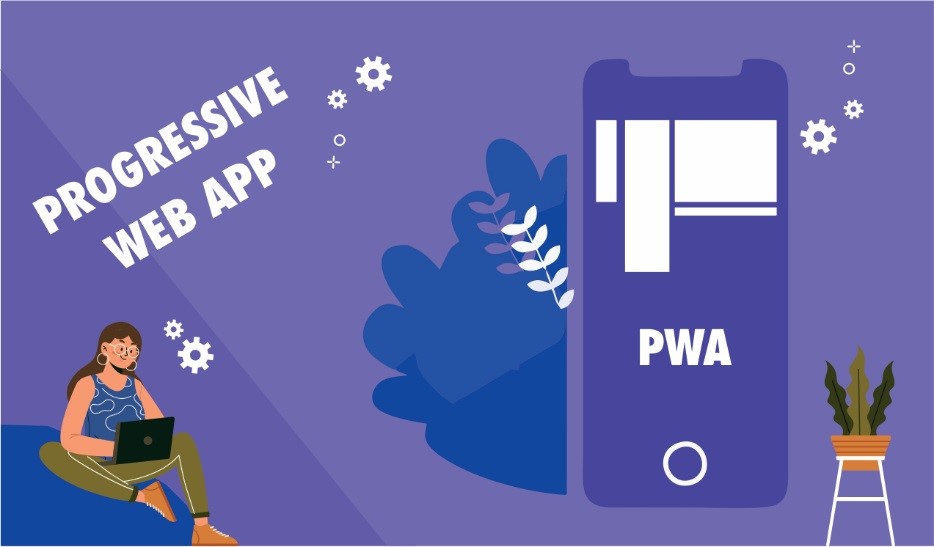 A Progressive Web App is an extremely optimized website designed for mobile devices, which acts like a native app. PWAs are developed using HTML, CSS, JavaScript and other web technologies, which can be accessed directly from the browser, such as Chrome and Firefox, so there is no need to download it from the app store. Furthermore, PWA employs service workers to manage service requests, caching and storing data on the user's device in the cache. This enables users to stay updated all the times, regardless of the speed of their internet connection.
Pros of Progressive Web Apps
Cheaper to develop
The major benefit of developing a PWA is the low cost. PWAs are much simpler, quicker and cheaper to build compared to the native apps. Unlike Android and iOS development, where you are required to develop apps with specific technologies for both platforms, PWAs are are required to develop only once and are compatible with all the platforms. In addition, PWA development is very similar to the standard web development, and there are plenty of competent JavaScript developers available in the market at a cheaper rate.
Fast time to market
Since PWAs are technically a website, they bypass the cumbersome app store requirements. PWAs are not required to be submitted on different app stores where each app store has its own requirements to follow in order to get your app published. Sometimes, you may also have to pay a fee to create an account. Everything a PWA needs is a web browser to run. This makes it easy for you to launch app faster in the market and reach a larger audience. Moreover, you can also roll out new updates without waiting for approval from the app store. This makes PWAs more convenient for you and your users.
Fast loading speed
As discussed earlier, PWAs use service workers to manage caching and storage of shell data. Hence, the app shell will load much faster. Since users are not required to download any content, they can access the PWA much faster directly via a URL. Loading speed is faster, even when the user is not connected to the internet. However, they won't be able to access any new information until they reconnect. The loading speed of an application is a crucial factor to consider as it has a huge impact on customer engagement and retention.
Easy accessibility
Another benefit of developing a PWA is you don't need to download and install a PWA to start using it. According to a study, over 25% of total smartphone users uninstall apps due to lack of storage space on their devices. With PWAs, they are not required to download the app, and hence it doesn't consume any space. You simply need to open the browser and type the site address to start using it. It can also be pinned to the home screen, so you can access it on-the-go.
SEO benefits
Basically, PWAs are websites that are optimized for mobile devices. That means all the SEO strategies that are applicable to the regular website are also available for PWAs. You can utilize SEO in order to reach a wider audience. PWAs are indexed by major search engines, such as Google and Yahoo, so your customers can easily find your PWA using any search engine. You don't need to launch any separate marketing campaign to promote your app. Moreover, with Google mobile-first indexation policy, your app will be preferred over other desktop sites.
Unified user experience
PWAs allow you to deliver a unified user experience, whether they access your site from a mobile phone or tablet. This eliminates the need of learning multiple interfaces for the user, which could frustrate them otherwise. Besides, PWAs consume very little space in the storage, which is preferred by users having mobile phones with less storage. Thus, with PWAs, they can access all the functionalities of the app without having to worry about lengthy downloads and storage space. PWAs can also be configured to send push notifications.
Also read: The Best 7 Benefits of Having a PWA for Your E-Commerce Store
Cons of Progressive Web Apps
Limited features
Since PWAs are only half apps, they don't have access to all the native features of the phone as native apps have. For instance, you cannot access phone contacts, Bluetooth, alarms or calendar. They cannot intercept a call, and get user's phone number. PWAs only allow sending push notifications.
Software and hardware restrictions
PWAs have limited access to your phone software and hardware. Since they are built on HTML, they do not support features that are not programmed in HTML. And, more PWAs are Android-centric, which means they don't yet work with Siri, Face ID and Touch ID, In-app payments and other iOS features.
Not supported by all the browsers
That's true. PWAs are still not supported by some browsers. They also don't support Apple's Safari browser. Given that Safari holds over 50% of total market share and being one of the leading web browsers in the US, you may lose a large number of audience if your business only has a PWA.
Native Apps – What is it?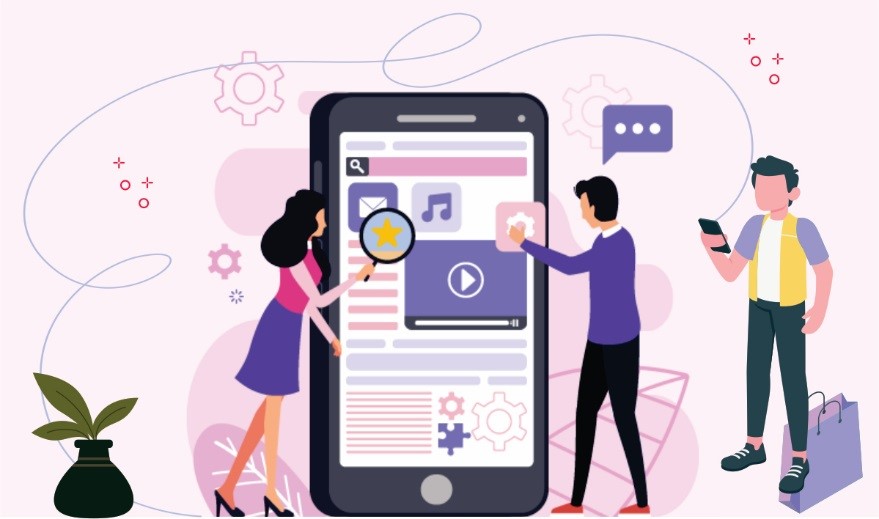 Native apps are designed and programmed to operate on their respective platforms, such as Android and iOS. They are separately developed for iOS and Android platforms, and sometimes even for specific devices. Since they are specifically developed for each platform, they can use full resources and features of the device in order to deliver a smooth user experience and optimum performance. To start using a native app, users are required to download it along with all of its content from the app store.
Pros of Native Apps
Stellar performance
The major advantage of having a native app is the high-level of performance it delivers. As native apps are built and optimized for a specific platform, it can leverage the device processing speed for optimum performance. Native apps don't only run faster, but they also load faster since they are stored in the device storage. Thus, superior performance is the major reason why businesses opt for native apps.
Top-notch user experience
Delivering a great user experience has been crucial for any business. With native apps, you can create vivid animations, attractive layouts, smooth navigation and include many more elements to achieve that flawless native look and feel. This creates an enjoyable browsing experience for your users because the interface is seamlessly combined with the device specifications.
Interaction with third-party apps
Another major benefit of a native application is that it can interact with other apps. Meaning, you can easily integrate third-party services, such as Facebook login, shipping methods and payment gateways. Any integration of external services is possible with native apps.
Full access to the device's native features
As native apps are installed on the device, they have full access to the device native features, such as camera, contacts, GPS, microphone, NFC and so on. The native app allows customers to use these features to enhance their experience.
Data protection and security
With native apps, it is easy to implement strong security features, such as two-factor authentication as the app has access to the device data. While PWAs may have their own security certification, native apps can embed their own TLS certificates to ensure high-level of security. Hence, if you want to handle sensitive client data, consider opting for native application development.
Offline mode
Using native mobile application without an internet connection is possible as data is stored on the device, and is not required to be fetched online. The app may cache new data when it is connected to the internet.
Cons of Native Apps
High development cost
The major disadvantage of the native mobile application development is the high cost associated with it. You will need to hire separate teams of iOS and Android developers to build native application for both platforms. Moreover, native apps are complex to develop and costly to maintain. Even the cost of Java, Kotlin, Objective-C and Swift developers is pretty higher compared to other developers.
App download and installation
In order to use a native app, users are required to download the app and install on their devices. For most online shoppers, this may seem an additional step in their shopping journey. App download and installation takes a while, and that is why more than 50% of all users prefer to use PWAs over native apps.
Memory and storage consumption
Another key disadvantage of native apps is they consume too much space and RAM of the device. An average Android app consumes about 15MB while an iOS app consumes about 35MB. Users having low storage issues on the phone may never download the app.
So, which is right for your business? PWA or native app?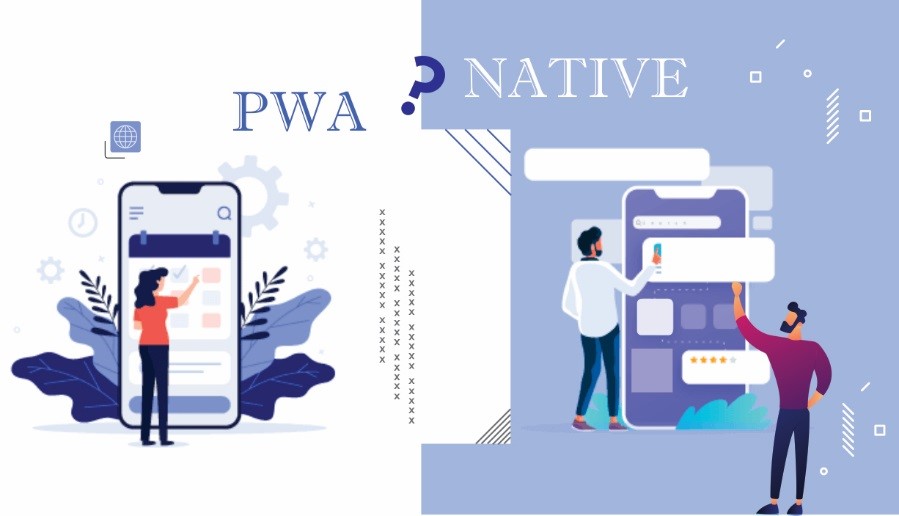 Both PWA and native app have its own strengths and weaknesses. When deciding between both, you should consider what key aspects you need in your app, and how each option fits in with the vision of your app.
PWA is right for you, when:
You don't have enough budget and time to develop separate apps for each platform.
You are just starting out and want a simple app for your user.
You wish to improve SEO and brand awareness.
The app doesn't require strict hardware and software elements.
Native app is right for you, when:
You want to deliver a top-notch app experience to your users.
You want to access advanced smartphone features.
Your app requires tight integration with software and hardware elements.
Despite their strength and weaknesses, both PWAs and native apps are here to stay. So, make your decision based on your business requirements and goals.