Visitors use the keywords on Search which are not always the exact word in your product portfolio. They use the Synonyms of these words for which stores do not show them optimum results.
Wizzy allows you to create associations between search terms and catalogue data. Wizzy's self learning algorithm suggests new synonyms to add automatically.  This is how you can add Synonyms:
1. On the Navigation bar, Go to Settings > Synonyms.
2. Press Add New on top navigation.
3. In the Keyword field, insert the word used to find the products in your products catalogue. For example, 'Sunglasses' as displayed in the below screenshot.
4. In the Type field,
Select

Regular

, if the Keyword can be used with the word you are entering in Related words interchangeably (e.g. Tees <=> T Shirts both can be used by users interchangeably).

Select

One way

if there is only single way connection between Keyword and Related words (e.g. iPad => Tablet, if the user searches for Tablet we can show iPad but when user enters iPad we cannot show all tablets)
5. In the Related words field, insert the words which visitors can use to search for the same product. For example, visitors use 'shades' or 'glares' for sunglasses while searching.
6. Press Add new Synonym.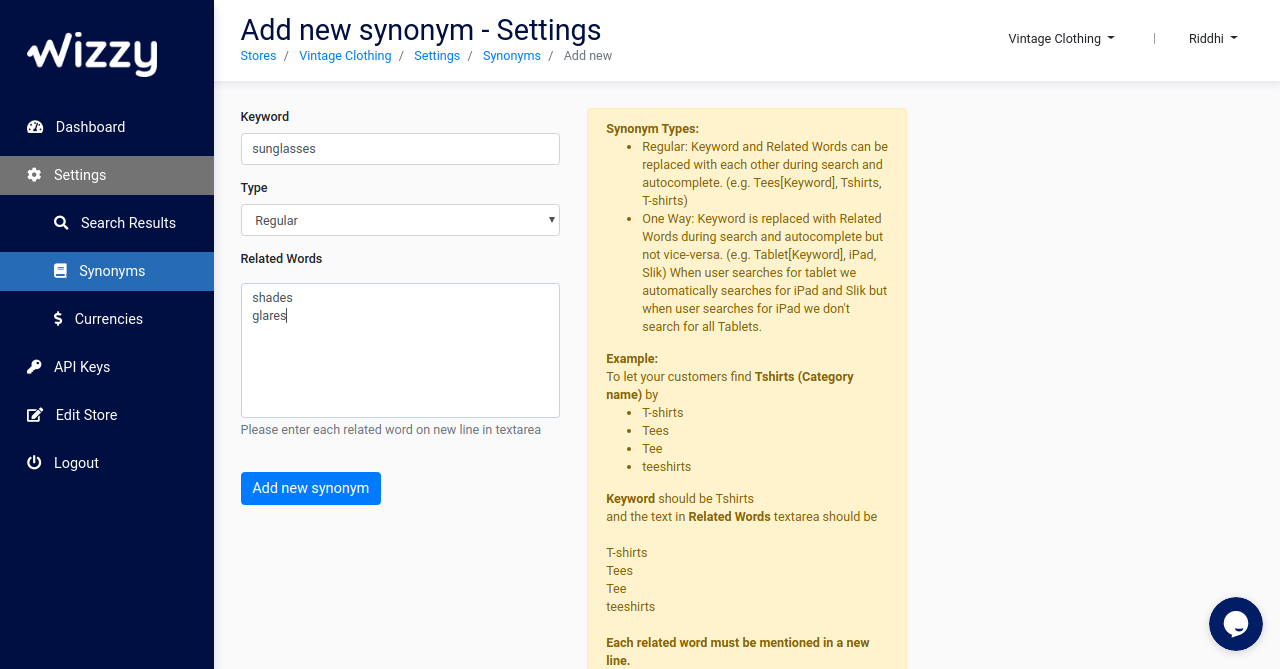 In case you find it Red or Yellow indicator for a longer time feel free to contact us at team@wizzy.ai.