E-commerce business of all types are blooming. The amount of online sales is growing exponentially year after year. Think about how did you buy clothes recently? How did you buy your mobile phone? How did you get your groceries? Innovative e-commerce business models have transformed the way we shop today.
Businesses that operate digitally are basically classified into five major categories, which are B2B, B2C, D2C, C2C and Social Commerce. If you are planning to start an online business, chances are you will fall into at least one of these primary e-commerce business models. Each model has its own benefits and challenges, and some businesses may also operate in more than one model simultaneously.
However, not every e-commerce retail model is created equal. Some work fine with certain products, while others offer daily conveniences. For any business that is looking to expand its online presence, it is essential to understand which model is right for their business. Knowing what bucket fits your big idea will help you think innovatively about new business opportunities and avoid mistakes.
B2B – Business to Business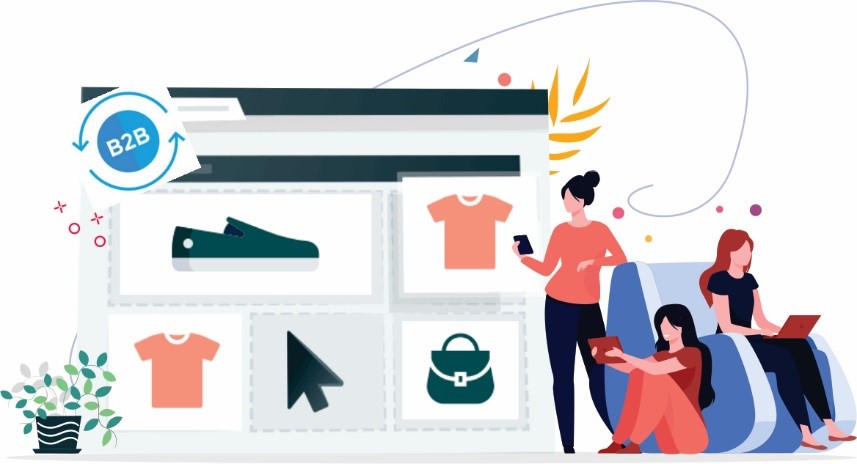 B2B model refers to businesses that deal with other businesses. This type of model is suitable for companies that sell their products or services to other companies, which is an intermediate buyer. The intermediate buyer later sells the products or services to end-customers. B2B transactions usually have more recurring purchases, higher order value and longer sales cycle. Popular examples of B2B companies are General Electric, Dropbox and Xerox.
The advantages of the B2B business model are numerous. One of the key benefits is higher profits. B2B buyers buy in large quantities in order to close a great deal and restock less often. Huge orders lead to higher e-commerce sales, and more money coming in. Moreover, this model involves long-term partnership with buyers, which results in regular orders.
But, when it comes to starting a B2B business, you need a big capital to buy a large volume of stock. You also need to figure out how to find customers who can make long-term partnerships and place regular orders. Furthermore, B2B sellers have a smaller pool of business buyers. That means you might need to negotiate contracts and please buyers in order to prevent them from turning to your competitors.
To succeed as a B2B seller, you need to take some crucial steps in order to attract customers and sustain long-term relationships. When you get interested leads, arrange a meeting with your sales and marketing team and discuss how to increase the chances of closing the deal.

B2C – Business to Consumer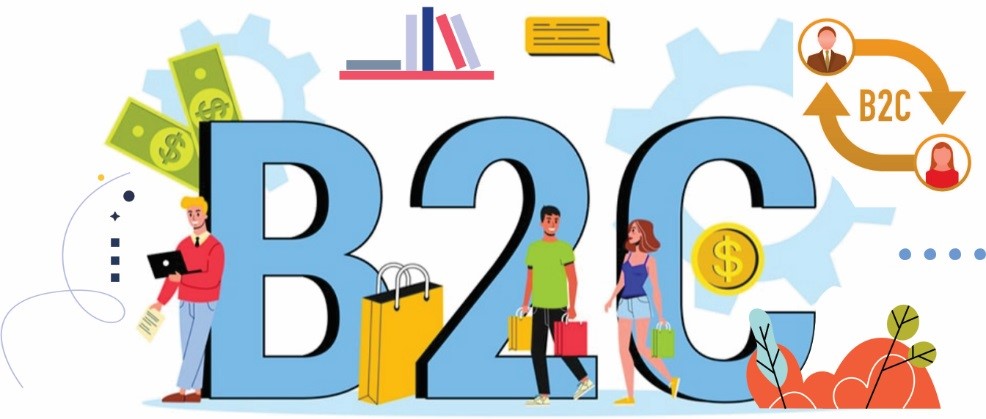 B2C business model is the most common when it comes to selling online. This model involves all the businesses that sell products or services directly to the customers. D2C businesses are also known as B2C, but with one difference, which is D2C brands sell their own products, while B2C brands may sell different brands. For example, a retailer selling both Nike and Adidas shoes. Anything you buy online is a part of a B2C transaction. Amazon, Walmart and Alibaba are some examples of B2C companies.
Any small, medium or large scale business can launch a B2C store using top e-commerce platforms such as Magento and Shopify. E-commerce owners can build feature-rich online stores by integrating third-party apps and extensions that further extend the functionality of the site. Such tools make easy for them to target huge audience, and convert more visitors into customers.
However, the major challenge that most B2C businesses face is the fierce market competition. Search engine marketing is the lifeline of any online business. Hence, the website must be optimized to attract and retain customers. Furthermore, the online store should have the necessary components like intelligent e-commerce site searchand faceted navigation that would dramatically improve conversion rates.
B2C business is pretty easier to start and offer a lot of advantages to online sellers. The decision-making process is much shorter than B2B business. For instance, it is much easier for a customer to buy a new shirt than for a business to hire web development service provider or food caterer. Because of this shorter cycle, B2C businesses don't require a huge marketing budget to make a sale.
D2C – Direct to Consumer
Direct-to-Customer business model refers to brands and manufacturers who sell their products directly to the customers without involving resellers and wholesalers. Such companies have their own manufacturing unit, distribution network and sales channel. By cutting out the middlemen, brands can build direct relationships with end-customers. Examples of successful D2C companies are Warby Parker, Chubbies and Me Undies.
Since D2C eliminates the barrier between the producer and consumer, the producer can have better control over their production, marketing and reputation. Brands can directly interact with customers and learn from their responses. They can bring a higher level of personalization in their products, have more room for product testing and get access to more targeted audience information.
However, the biggest challenge a D2C brand encounters is the shift of responsibility in managing sales and distribution channels. Without dealers or wholesalers to support your brand, you will have to work alone in order to make your brand stand out. You will be responsible for order fulfillment, packaging, delivery and inventory management.
You should also know the fact that online selling is not easy. It requires a lot of effort and dedication to build your brand reputation. All different departments in your business must coordinate properly in order to stay ahead in the competition.

C2C – Consumer to Consumer
C2C business model refers to websites that act as mediator between clients. This platform allows buyers to be the sellers and sellers to be the buyers. Clients can switch their positions based on their requirements. Examples of such businesses are fiverr, Airbnb and eBay. Through C2C sites, people can sell their vehicle, electronics, household items, appliances and so on directly to the customers who wish to buy them. In return, the C2C website may ask for a small commission on every transaction.
The main benefit of C2C sites for sellers is higher profitability. Sellers can sell their products or services directly to the buyers without any overhead cost. Moreover, sellers can reach potential customers across the international market. Buyers can also greatly benefit from this portal by dealing with a number of sellers. They can search products based on certain criteria and choose the best-selling products from the best seller.
However, C2C model doesn't guarantee the payment. And, often sellers stop their co-operation once the transaction is complete. There is no guarantee that the purchased items are worth the money. Moreover, refunds are very rare, so if anything goes wrong, there is nothing much you can do. Nevertheless, certain C2C sites, like eBay, have strict policies to protect their users.
Although C2C model is usually associated with fraud and deceit, but it offers a simplified way to connect with buyers without requiring sellers to set up a store. Of course, it is up to each of us to choose whether to use these kinds of portals or not.
Social Commerce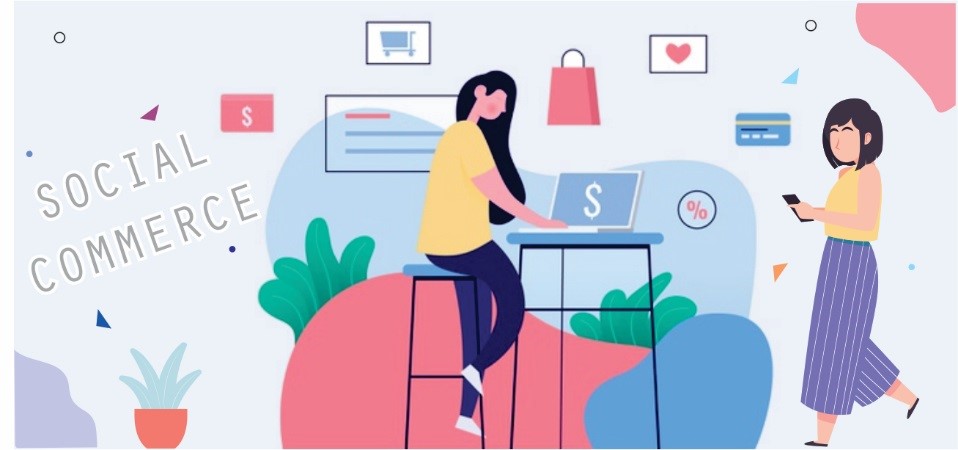 Social commerce has emerged as a new convenient way to sell products through numerous social media channels. Unlike social media marketing, where you redirect customers from social media to your online store, social commerce delivers the entire shopping experience without having the customers to leave the social media. This makes easy for you to convert more leads by shortening the sales funnel.
The primary reason why sellers use social media is because of the low cost and high reach. Social media is almost free, and it is accessible by anyone. The very first port of call for small, medium or independent retailers who are strapped for cash at the moment is posting on social media to promote their products. With social commerce, you can increase your brand's visibility to a wider audience.
But, just like with other business models, social commerce also has its own challenges. While social commerce offers a lot of opportunities to merchants, many are expressing concerns for who really owns the customer. The more merchants leverage social commerce, the more they are deprived of the power over the buying process. When a user checks out products on Instagram or other social networking sites, the information is received by the platform and not by the sellers. This makes it difficult for retailers to capture customer data and deliver personalized shopping experiences.
Futurists have predicted the increasing growth of social commerce in the coming years. Social commerce may work well if you don't have enough budget or you are just starting out and don't want to deal with a lot of hassle. But, as you expand and grow, we would advise you to make your own e-commerce store and redirect customers to your store from the social media.
Conclusion
We have covered the most common e-commerce business models that are being used today.  But, before you choose one, spend time learning about who is your target customer, which model serves your needs the most, what is your potential, what is your current market position and what unique value you can bring to your customers. Answers to these questions will help you create a plan that will make your business stand out.