Companies spend a lot of time improving their conversion rates and reducing abandoned cart rates, but what happens after the users buy from you. Most brands assume shoppers will re-enter the sales funnel and start shopping again. However, that would be a costly mistake to assume that customers will re-enter the sales funnel on its own. Effective e-commerce marketing strategies don't end when a shopper buys a product.
Returning shoppers are far more profitable than acquiring new customers. Once they have made a purchase, it is the ideal time to encourage customers to return to your site. Your brand name is still fresh in their mind, and therefore, they are more likely to visit your store and spend more money. Hence, it is vital that you continue to engage your customers post-sale, which is one of the most profitable marketing activities for your business.
The Significance of Post-Sale Engagement
Having a long-lasting and enduring relationship with your customers is essential in this fast-paced digital world. Business can make more profits by retaining more customers and save money in the process by focusing not only on closing a deal, but creating an experience that encourages customers to come back again and give you more business. In fact, Paul Farris, the author of Marketing Metrics, mentioned that there is over 60% chance of converting a returning customer.
Considering this number as well as plenty of other studies that show customer retention is a more economical than customer acquisition, it does pay off to invest in activities and strategies that emphasis on keeping your current customers happy. You can create a strong bond with shoppers by regularly sending them relevant content after they have completed the purchase.
There are many engagement strategies that would make your customers feel cared for, increasing the chances to make more purchases in the future. When it comes to targeting the existing customers, email marketing campaigns are the most effective tools. If implemented correctly, post-purchase emails can dramatically improve customer retention, drive more traffic and boost your e-commerce sales.

How to Keep Your Customers Engaged Post-Sales
#1 Appreciate them by sending a 'Thank You' email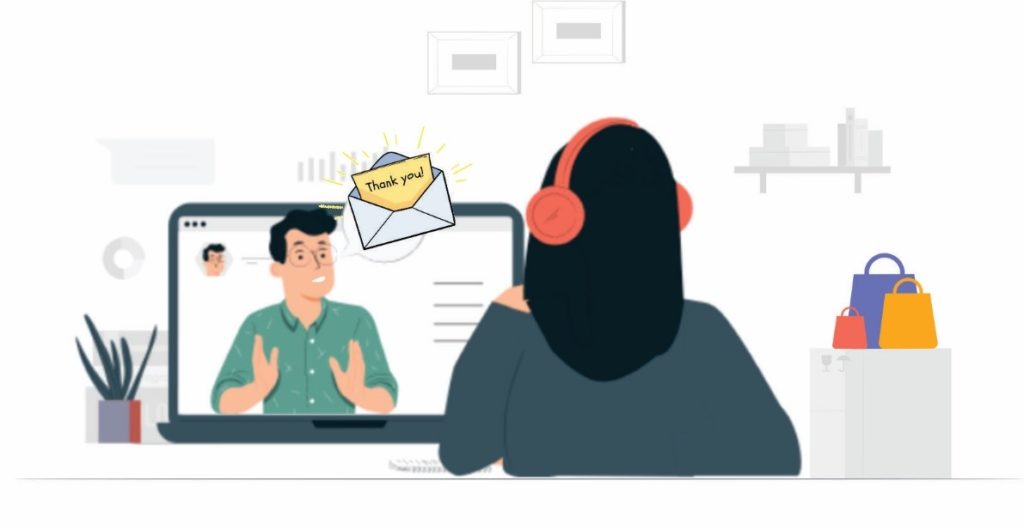 A user has taken the plunge and purchased from your site. Now it is time to thank them. Everyone loves to be appreciated, which is why a thank you email is the first critical step that will leave a positive impression of your brand. It is a great way to show appreciation and respect towards the action they have taken, which is spending money in your store. Remember that, building strong customer relationships is what matters at the end of the day, which will bring you higher sales in the long-run.
Hence, show your buyers that you care by sending a thank-you email soon after they complete the purchase. You can use automation tools that allow you to share order details, shipping information and expected delivery date in order to personalize and add a human touch in your email. Since thank-you emails tend to have a higher chance to be opened by the customers, this also offers a great opportunity to offer cross-sell products or discount coupons, which can encourage them to place another order.
#2 Send a guide on how to use the product
Some products, like computers, home appliances and gardening equipment can be a bit intimidating to new users. Therefore, it is always useful to offer some instructions and information about how to use the product in the most efficient way. Try to offer content in different formats, such as video tutorials, articles or live chat option that allows them to make the most of their purchases. Customers would also appreciate if you provide product care tips that increase the product's life expectancy.
Creating a guide for your users also give you an opportunity to suggest related or complementary products. You may think creating a guide is unnecessary when the product comes with its own guide. However, offering a guide shows them that you are going an extra mile that adds value to their purchases. Sharing how-to-use instructions can also help in reducing the returns by helping users avoid common mistakes that would damage the product. A little assistance can result in higher customer satisfaction, and improve overall shopping experience.

#3 Ask for the product review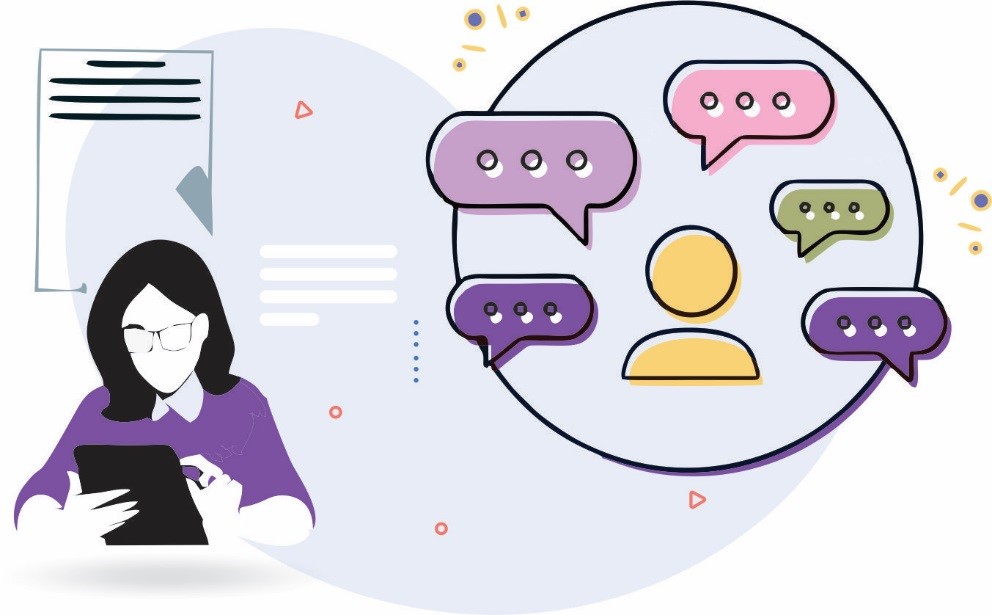 Listening to your customer is a healthy practice that can reinforce the customer-brand relationship. Their inputs and opinion can be valuable to your business that can help you improve your products or services, and allow you to make more sales. Based on a study, nearly 80% people trust user reviews as much as they trust personal recommendation. Reviews and ratings also form a social proof that can boost your brand reputation. You can post these reviews on your product pages to convert more customers. Moreover, asking for reviews shows your customers that you care about their opinion.
Request a review or rating from your customer once they have received their shipment. Consider using an email to gather reviews, be it a review of the product itself or the quality of service they received. You can also think of offering a deal or discount on the next order as a way to encourage users to leave a review. Keep in mind that the response time may vary depending on the type of product they have purchased. For instance, a customer who has bought a shirt is likely to try right away, while items like laptops might need to be used several times before the user is ready drop a review.
#4 Invite users to the loyalty programs
Go beyond appreciating your customers and demonstrate that they are being truly valued by inviting them to be the part of your loyalty program. Customer loyalty goes together with customer retention. Loyal customers tend to repeatedly return to your site rather than going to your competitor because of the pleasant experience they received from you. In fact, returning shoppers spend around 65% more when they have been loyal to your brand for more than two years. Over 80% of all shoppers say they are more likely to shop from a store that offers a loyalty program.
There are many ways you can reward your customers through loyalty programs and retain them for a longer duration. Send them an email with an invitation link and present all the benefits of joining the club, such as VIP access to sales, exclusive offers, early access to new products and reward points on purchases. Offering a discount coupon to your customer for joining the loyalty program after they have placed the order is a great way to start. Build personal relations by remembering their birthdays and offering a gift. Loyalty programs are one surefire way to drive customer retention.
#5 Request to refer a friend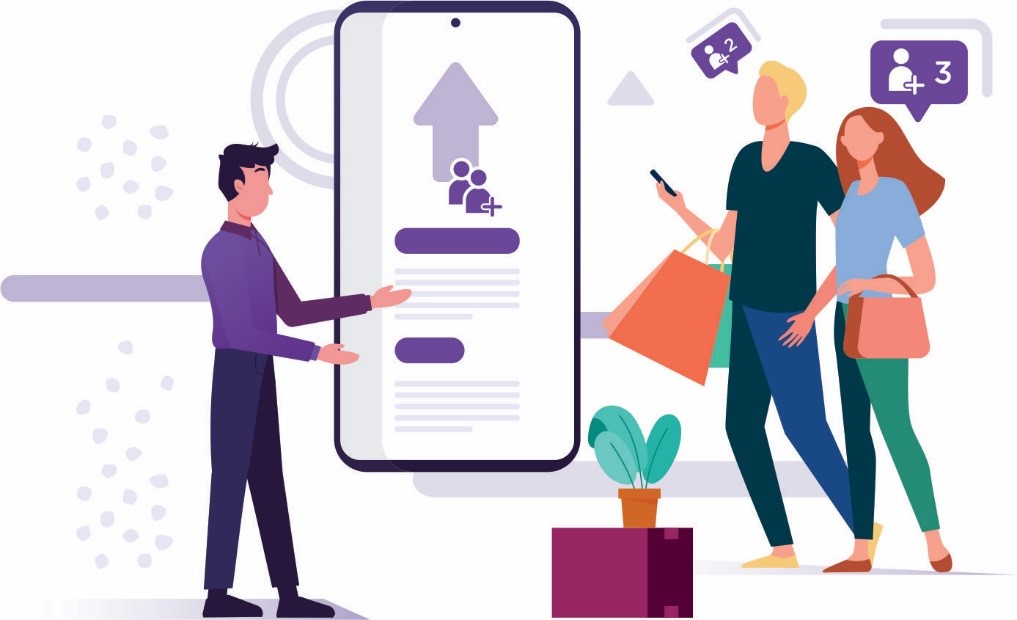 Referral marketing is one of the most effective techniques that can widen your reach and bring new customers. This simply means requesting your customers to refer your brand or products to their family and friends, and they get the reward for their action. In simple words, you turn your happy customers into advocates of your brand to acquire new customers at a lower cost than other marketing channels. Individuals who have received a recommendation from a friend is four times more likely to purchase from you. Clearly the word of the mouth is the most powerful way to grow your business.
After your customer has finished the purchase, they are in a good mood with regards to your company. This is the right time to ask for referrals. Offering a reward in exchange for a referral plays a crucial part in super-charging word of the mouth recommendation. Think that your customer has put a lot of effort in convincing the friends, shouldn't you offer a little reward? The rewards could be in the form of referral points, discounts on the next purchase or free shipping.
#6 Recommend personalized upsell cross-sell
When a customer places an order, it gives you a wealth of information about their preferences and lifestyle. Acquiring as much information as possible about your customer is going to be beneficial in developing a strong bond with them. Although some customers may not be ready to place another order right away, but recommending upsell and cross-sell products will give you an opportunity to keep your brand at the top of their mind. Wizzy smart product recommendation tool can help you alert users about other related products, services or accessories based on their previous purchases, and how they can improve primary product performance.
Identify customer choice and their interaction with your product, and offer the top of the line products that further enhance their experience. However, you may need to learn about some effective cross-sell and upsell techniques before you pitch products. Thus, sending personalized product recommendations based on the customer's previous purchases is one of the most effective ways to keep your customers engaged with your site and maximize your profits.
#7 Send replenishment product reminder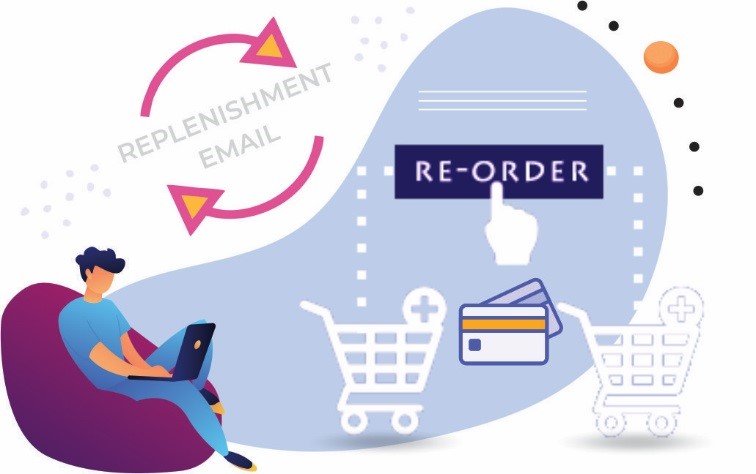 Customers often forget to order consumable products before they realize it's time to stock up again. Some products that require recurring purchases you can set up replenishment marketing strategies that inform customers when the product they have bought is likely to run out or wear down, so they can order again. These emails are not sent immediately, but you need to figure out the time that would be the best to send replenishment emails.
Replenishment emails are all about determining the right time, and making it easy and convenient for users. Once the customer has placed an order, you can send replenishment emails at a regular interval based on each product's shelf life and how often your customers use it. You can also set up a subscription program that automatically places an order when it's time to.
Keep the conversation going
Incorporating these strategies will certainly help in building relationships with your customer and continue selling to them. Whatever happens, never stop re-engaging with your customers once they have placed their first order. Even if you haven't heard from your customers in a while, let them know that you miss them and urge them to return to your site. Building solid relationship is the key to turn one-time customers into long-term returning customers.